The U.S. has approved a new $550 million in weapons equipment for Ukraine, with the latest support deal covering additional munitions for High Mobility Artillery Rocket System (HIMARS) launchers and more ammunition for 155mm artillery systems.
"More than five months into Russia's brutal and unprovoked assault on the people of Ukraine inspire the world as they defend their country and their freedom. The United States continues to stand with Allies and partners from more than 50 countries in providing vital security assistance to support Ukraine's defense of its sovereignty and territorial integrity against Russia's aggression," Secretary of State Antony Blinken said in a statement.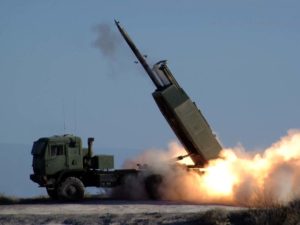 The latest deal to aid Ukraine in its fight against Russia's ongoing invasion is the 17th drawdown of equipment from DoD inventories, with the U.S. having now committed about $8.7 billion in security assistance to Kyiv since the beginning of the Biden administration.
The new package includes 75,000 rounds of 155mm artillery ammunition for howitzer systems, according to the Pentagon.
John Kirby, spokesman for the White House National Security Council, told reporters the security aid announcement follows a call on Monday among Blinken, National Security Adviser Jake Sullivan and Army Gen. Mark Milley, Chairman of the Joint Chiefs of Staff, and their Ukrainian counterparts on the "enduring U.S. support to Ukraine as the Ukrainian people continue to stand up to Russian aggression."
Kirby noted Defense Secretary Lloyd Austin also spoke with his counterpart, Ukrainian Defense Minister Oleksii Reznikov, on Friday where he previewed this new package.
Reznikov said recently Ukraine likely needs around 50 long-range rocket systems, such as HIMARS and M270 MLRS launchers, to "effectively hold back" Russia and at least 100 such systems "for an effective counter-offensive" (Defense Daily, July 19).
With the last $270 million weapons aid package the U.S. signed for on July 22, which included four more HIMARS, the U.S. will have now committed 16 of the Lockheed Martin [LMT]-built long-range rocket systems to Ukraine (Defense Daily, July 22).