Northrop Grumman [NOC] and Raytheon Technologies
[RTX] said Monday they are partnering to pursue the Missile Defense Agency's (MDA) Next Generation Interceptor (NGI) contract for the domestic U.S. missile defense system.
The NGI is the replacement for the Redesigned Kill Vehicle (RKV) program, which was canceled last August due to technical design problems and deficiencies that would have cost years and hundreds of millions of dollars to fix (Defense Daily, Aug. 21).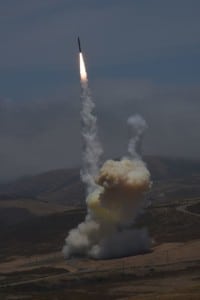 NGI aims to add a planned 20 interceptor missiles to the Ground-based Midcourse Defense system that is meant to defend the U.S. from a small number of ballistic missile threats, like from North Korea.
While RKV was only going to improve the kill vehicle at the top of the Ground-Based Interceptor (GBI) missile and add new GBI units, the NGI is now expected to replace the entire GBI (Defense Daily, March 10).
Raytheon was the subcontractor and actual developed of RKV under prime contractor Boeing [BA]
Northrop Grumman and Raytheon Technologies argued this new "strategic partnership" will provide a solution that will support the MDA's efforts to quickly deploy a system that complements and strengthens the existing missile defense architecture.
This strategic partnership will offer the MDA an interceptor solution that will support the warfighter and MDA's efforts to rapidly deploy a system that complements and strengthens the existing Ballistic Missile Defense architecture, the companies said.
The companies underscored together they currently provide the interceptor booster, kill vehicle, ground systems, fire control and engagement coordination for the GMD system. They said together they have conducted more than 40 successful exoatmospheric test intercepts. Northrop Grumman builds the booster for the GBI while Raytheon makes the kill vehicle.
"We have the right team, technology and expertise in place to meet our customer's needs for enhanced capabilities, from the identification of a ballistic missile launched by an adversary, all the way to its elimination. Together, we will offer MDA an effective and affordable solution for defending our nation from these emerging threats," Blake Larson, corporate vice president and president of Northrop Grumman Space Systems, said in a statement.
"The joining of true experts — with mastery from threat detection to interception — creates a team capable of developing a revolutionary solution that is designed to defeat emerging threats," Wes Kremer, president of Raytheon Missiles & Defense, added.
In March, Undersecretary of Defense for Research and Engineering Mike Griffin also told the House Armed Services Intelligence and Emerging Threats and Capabilities Subcommittee he expects bids from four companies.
As the former prime contractor of RKV, a Boeing spokesman confirmed to Defense Daily at the time the company indeed plans to compete for the NGI program (Defense Daily, March 11).
Griffin told lawmakers he expects NGI to take about 10 years to reach deployment with a 75 percent confidence level but that the requests for information (RFIs) submitted by some interested contractors found "that some significant shortening of that period is possible."
The Defense Department FY 2021 budget request plans to fund the NGI at $4.9 billion over the next five years, with $638 million requested in research and development funds in FY '21 alone (Defense Daily, Feb. 11).
MDA released the Request for Proposals (RFP) for the NGI program last month with the intention of awarding two contractors for simultaneous development of NGI options (Defense Daily, April 24).
The RFP noticeably tried to account for a potential impact by the COVID-19 pandemic and gave contractors 90 days to provide proposals, due by July 31, and said additional adjustments may occur due to the pandemic.
When the RFP was published MDA spokesman Mark Wright told Defense Daily the agency estimates the total cost of designing, developing, and fielding 50 NGIs will be over $11 billion if it retains two prime contractor competitors through the critical design review period.