The Army has selected Silvus Technologies to deliver more than 1,000 radio devices required to support the Integrated Visual Augmentation System (IVAS), the service's future augmented reality headset program.
Under the $3.9 million deal announced Monday, Silvus Technologies will provide tactical Mobile Ad Hoc (MANET) radios ahead of the next IVAS soldier evaluation this fall.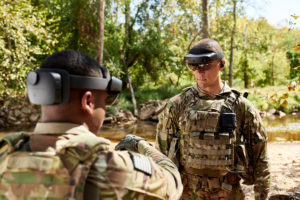 "Silvus is prepared to support the needs of the IVAS program as our StreamCaster radios are optimized for low size/weight/power, high scalability, high throughput and resilient connectivity in congested/contested environments, providing the soldier with real time data transmission for situational awareness," Jimi Henderson, the company's vice president of sales, said in a statement.
The IVAS headset, which is currently being developed by Microsoft [MSFT], will require a tactical MANET radio network to allow soldiers to share information wirelessly on the battlefield, according to Silvus Technologies.
Army leaders said recently the ongoing pandemic will not affect a first unit equipped date for IVAS in late fiscal year 2021, while confirming that the next soldier touchpoint has been delayed from this summer to October (Defense Daily, April 22).