The Pentagon is preparing for a "new normal" under the long-term impact of the coronavirus pandemic, the Secretary of Defense said Monday, addressing his particular concerns with supply chain vulnerabilities and securing defense funds in the next stimulus package.
During an online discussion with the Brookings Institution, Secretary Mark Esper said the department has seen a minimal effect on readiness in the near-term while officials are assessing actions for the next six to 18 months to mitigate larger impacts.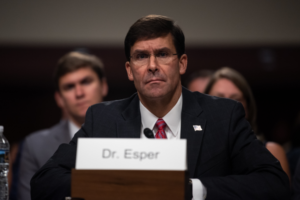 "To date, we have had a very low impact on readiness. But over time, we are anticipating what could be a greater impact if we do not see a change in trajectory of the virus or how we adapt ourselves," Esper said.
Esper said he is particularly concerned with the vulnerable second and third-tier companies in the supply chain, and is planning to send a letter this week to industry partners asking what the Pentagon can do to "keep the DIB (defense industrial base) at full capacity."
"We have to take care of [subcontractors] first and then work our way back. The bigger companies, the primes, they have the financial means to sustain themselves. It doesn't mean we shouldn't pay attention to them, but our priority must be placed on the furthest end of that supply chain first and then work our way back in from there," Esper said.
Ellen Lord, the Pentagon's top acquisition official, told reporters last week the department is continuing to work with primes on pushing payments down to smaller, more vulnerable companies in their supply chain (Defense Daily, April 30).
The impact on maintenance due to shutdowns or reduced workload at both military depot and and industry partners' plants is also an area the Pentagon will look to address, according to Esper.
"One of the big areas I'm watching closely and that we're adapting our plans for is maintenance, specifically the impact that COVID-19 is having on the defense industrial base," Esper said. "That, obviously, over time will have an impact on maintenance, whether it's local maintenance or depot-level maintenance, or if you're on a production line it could have an impact there."
Esper also said he believes the trillions provided in stimulus packages during the pandemic will lessen the Pentagon's probability of receiving the three to five percent annual budget growth he's called for previously to meet modernization initiatives (Defense Daily, Feb. 6).
For the next stimulus bill, Esper said the Pentagon is seeking defense funds that would be used to purchase medical supplies while also allowing for progress payments and greater cash flow to industry partners.
"We anticipate the likely need for additional monies coming out if there's a fourth supplemental [bill] because we see a greater demand in regard to medical supplies," Esper said. "But we also want to continue priming the defense industrial base. We want people at work. We want our base at work. We want to continue with payments. We want to help with cash flow. And we're looking at a variety of ways by which we can do that."
Rep. Adam Smith (D-Wash.), chairman of the House Armed Services Committee, said last week he did not expect the next stimulus bill to include increased funds for defense spending, adding the Pentagon should have sufficient funds to meet the needs of its contractors (Defense Daily, April 29).