The Pentagon is seeing a greater number of industry partners open back up for business since the start of the pandemic, with the department urging prime contractors to continue efforts to push payments down to smaller, more vulnerable companies in their supply chain.
Ellen Lord, DoD's top acquisition official, told reporters Thursday the department is utilizing its $3 billion progress payment plan to assist prime contractors in accelerating payments to distressed companies, with $1.2 billion already processed and the remaining $1.8 billion to go out within the next two weeks.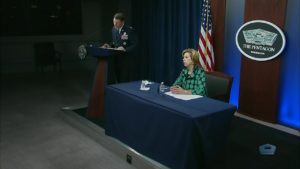 "We have spoken with each of our major prime companies, and they have each confirmed their detailed plans to work with their supply chains to accelerate payments and to identify distressed companies and small businesses," Lord said.
Lord specifically praised the Lockheed Martin [LMT] announcement of plans to accelerate $450 million to its supply chain. Additionally, in response to a question, she urged additional prime contractors to make similar public commitments.
"I believe that the major primes are flowing down [funds]. They've committed, but always look to trust but verify. I encourage all those companies to be as transparent and forthcoming as they can be. Because we have a responsibility to the taxpayer, as well as to the mid-tiers and the small companies, to make sure actions we take at the prime level do go down all the way through the chain," Lord said.
Regarding the industrial base, Lord confirmed of the 10,509 companies tracked by the Defense Contract Management Agency that 93 are currently closed, which is down 13 from last week.
Of those companies, 141 have closed and since reopened, which is up by 68 from last week.
For the 11,413 companies that are tracked by the Defense Logistics Agency, 237 have closed and reopened, which is up by more than 100 since last week.
"This is the first time we have seen reopening numbers larger than the number of closures," Lord said. "Domestically, while we have seen some minor improvements, we continue to see the greatest impacts in the aviation supply chain, shipbuilding and small space launch."
Lord also addressed a comment she made last week on the pandemic's impact to major programs, clarifying her view the department will face a potential 3-month "slowdown" rather than a "delay" (Defense Daily, April 20).
"I intentionally used the words 'slow down' and 'impact' and I am not saying the word 'delay,' which carries a very different connotation. I won't discuss any programs specifically, but we have seen inefficiencies across many programs," Lord said. "We do not look at delaying things, we are looking at working through the issues which sometimes cannot be executed with the same efficiency we previously had."
On Wednesday, Rep. Adam Smith (D-Wash.), chair of the House Armed Services Committee, said he did not expect the next stimulus bill to include increased funds for defense spending, adding the Pentagon should have sufficient funds to meet the needs of its contractors, whether by advancing already expected payments or awarding contracts early (Defense Daily, April 29).
"We will look at that, however I am not sure we have the fiscal flexibility to encompass all of the new demands we have and the inefficiencies that we are seeing and perhaps may see in the future. But I respect what Chairman Smith is saying and we will obviously do our best," Lord said, when asked about Smith's comments. "However, I will say that we continue to look at gaps in funding we have for specific issues. We continue to work with OMB on that."