Lockheed Martin [LMT] on Thursday conducted a third successful demonstration of its offering for the Army's Precision Strike Missile (PrSM) program, with the company now set to move into the enhanced technology maturation phase and build toward initial fielding in 2023.
The flight test was the first since
Raytheon [RTN] exited the competition leaving Lockheed Martin as the sole competitor, with Army officials also detailing plans to explore new seeker technologies and "enhanced lethality" components for PrSM in the next phase of the program.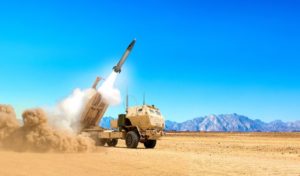 "By all indications it had a very nominal flight trajectory. It did strike the target. All indications at the target area are that the missile performed perfectly. Perfect launch, so it was three for three," Gen. Mike Murray, head of Army Futures Command, told reporters following the test.
The short-range test at White Sands Missile Range in New Mexico included firing PrSM at a target 85 kilometers away, in what Army officials said was considered the most challenging demonstration to date.
"The missile almost has to start tipping over as soon as it comes out of the launcher. And it has to burn off a lot of energy in order to turn over and get the vertical and nominal trajectory," said Brig. Gen. John Rafferty, director of the Long Range Precision Fires Cross Functional Team.
PrSM is the Army's program to replace its legacy ATACMS missiles, also built by Lockheed Martin, with plans to award a production contract in 2021 and begin initial fielding in 2023.
"If we don't move past the ATACMS and replace it with the PrSM missile, giving us range out past 500 kilometers and two missiles per launch pod container, then we run the risk of being outmatched in that tactical and operational range space," Rafferty said.
Rafferty said the Army is in the process of finalizing a contract for enhanced technology maturation risk reduction (E-TMRR) contract with Lockheed Martin, with the next phase of the program to include testing at longer ranges including a maximum range demo in spring 2021.
Gaylia Campbell, Lockheed Martin's vice president of precision fires and combat maneuver systems, told Defense Daily three additional flight tests are planned for 2021, with one demonstration to include firing two PrSM rounds side-by-side from a HIMARs launcher.
"We are already working on procuring the next set of sub-system hardware for the PrSM rounds that will be used in the tests as part of the Enhanced TMRR phase. The next three flight tests will take place next year and will further test the missile in different environments. We will conduct sub-system qualification as well as the Critical Design Review to support early fielding of our PrSM capability for the warfighter," Campbell said. "We've validated the design and performance of our baseline tactical missile and are already working with our Army partner on Engineering Design Testing, production readiness and fielding requirements to support the future needs of the soldier."
The next phase of PrSM will push toward seeker technologies that would be included in a version of the missile to roll out in 2025, according to Rafferty, as well as "enhanced lethality" pieces that would allow PrSM to engage moving targets at extended ranges.
Murray said the Army was not concerned with having a sole competitor left in the program after Raytheon dropped out, adding there will be future opportunities for competition as the service looks to spiral in the new technologies.
"Everything we've seen so far, no concerns whatsoever about being down to one competitor. As we get into the spirals, I think there will be opportunities to reintroduce competition back into this program as we go forward," Murray said.
Raytheon exited the competition in March without conducting a flight test of its DeepStrike missile, after the Army said it decided not to fund further development and noting the offering experienced technical issues (Defense Daily, March 25).