The Missile Defense Agency (MDA) on Friday awarded Northrop Grumman [NOC] $155 million for the second prototype award for the Hypersonic and Ballistic Tracking Space Sensor (HBTSS) Phase IIa effort.
Under this award, the company will provide the MDA's HBTSS an on-orbit prototype demonstration, culminating in a launch and early orbit testing.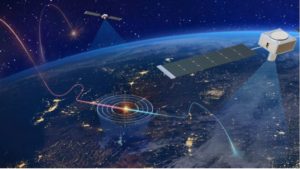 Last week, MDA awarded a similar $122 million prototype contract to L3Harris Technologies [LHX] (Defense Daily, Jan. 15).
Both companies won the downselect among four total competitors under the HBTSS program.
In 2019, L3Harris, Northrop Grumman, Leidos [LDOS], and Raytheon Technologies [RTX] won separate $20 million prototype awards to provide MDA with prototype payload designs and signal-chain processing risk reduction demonstration work (Defense Daily, Nov. 1, 2019).
Those four finalists, in turn, were selected from 12 total initial proposals. According to previous contract announcements, work on the previous prototype designs was due October 2020.
This contract work will occur in Redondo Beach, Calif., and is expected to be finished by July 2023.
Like the L3Harris award, MDA obligated $25 million in fiscal year 2020 research, development, test and evaluation funds at award time. Funds will expire at the end of fiscal year 2021.
The goal of the HBTSS program is to put in place a proliferated space-based missile tracking sensor in Low Earth Orbit to enhance traditional ballistic missiles and better track hypersonic weapons.