Four companies won $20 million contracts last week each to develop prototype payload designs for the Hypersonic and Ballistic Tracking Space Sensor (HBTSS) program.
Northrop Grumman [NOC], Leidos [LDOS], L3Harris Technologies, and Raytheon [ RTN] each won $20 million firm-fixed-price prototype awards on Oct. 29. The contract notice explained the awardees will specifically provide the Missile Defense Agency's HBTSS program with prototype payloads design and signal-chain processing risk reduction demonstration work.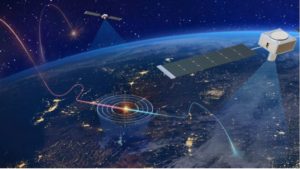 MDA awarded $15 million to each awardee at award time, with funds set to expire in FY 2020. The work is expected to be finished in about a year, by Oct. 21, 2020.
The four winners were selected from 12 total proposals received via the Space Enterprise Consortium Other Transaction Agreement between the Air Force's Space and Missile Systems Center and Advanced Technology International. MDA did not disclose the eight other competitors.
The HBTSS was formerly called the Space Sensor layer (SSL) and aims to be a proliferation constellation of many space-based missile tracking sensor in Low Earth Orbit.
Last year, Under Secretary of Defense for Research and Engineering Michael Griffin said the only way to reliably track hypersonic weapons is from LEO in a new space sensor layer. Since they are about a factor of 10 dimmer than strategic ballistic missiles currently tracked, they cannot be monitored from higher orbits (Defense Daily, Aug. 8, 2018).
This contracted work will occur in California and Indiana, with Northrop Grumman's work in Azusa, Calif., Leidos in San Diego, L3Harris in Fort Wayne, Ind., and Raytheon in El Segundo, Calif.