The Army has selected three vendors to move forward in its Robotic Combat Vehicle-Medium program, with each having the opportunity to submit vehicle proposals, as the service plans to award a contract to deliver prototypes next spring.
The National Advanced Mobility Consortium said Friday that General Dynamics [GD], QinetiQ NA and Textron [TXT] had successful white papers and will be issued requests for prototype proposals (RPP).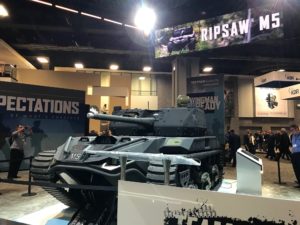 Several companies brought potential RCV offerings to the recent Association of the United States Army conference in Washington, D.C., as the Army detailed plans to ramp up the program and accept proposals for RCV-M and RCV-Light in the coming month before holding prototype demonstrations next March (Defense Daily, Oct. 15).
Brig. Gen. Ross Coffman, director of the Army's Next-Generation Combat Vehicle cross-functional team, told reporters at the conference prototype contracts will then be awarded next spring for one vendor to build four RCV-Ls and one vendor to build four RCV-Ms.
A downselect for four vendors to receive RPPs for RCV-L was also announced recently, with  HDT Global, Oshkosh Defense [OSK], QinetiQ NA and Textron moving forward in that program (Defense Daily, Oct. 21). 
Textron Systems, along with its team of Howe & Howe and FLIR [FLR], unveiled its Ripsaw M5 platform at AUSA, which company officials said could be scaled down for RCV-L or up to a heavier version for RCV-M.
QinetiQ and its partner Pratt & Miller also announced at AUSA a new partnership to offer a variant of the Expeditionary Modular Autonomous Vehicle (EMAV) for RCV-L, but did not specify which platform will be submitted for RCV-M.
The downselect does not include BAE Systems, which unveiled its Robotic Technology Demonstrator at AUSA and noted the platform was suited for RCV-M, but could lead toward the RCV-Heavy several years down the road. 
BAE Systems said in June the company would sit out the Army's program to replace its Bradleys with the Optionally Manned Fighting Vehicle, and instead focus on programs such as RCV (Defense Daily, June 10).