The Navy has stopped accepting delivery of Freedom-variant Littoral Combat Ships (LCSs) after finding a problem with the combining gear on the ships.
The government investigated a "material defect with the combining gear" on the Freedom-variant LCSs, Navy spokesman Alan Baribeau told Defense Daily in a statement.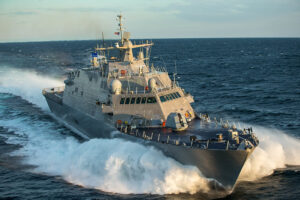 The Freedom-variant ships are delivered by prime contractor Lockheed Martin [LMT] and built largely by shipbuilding Fincantieri Marinette Marine in Wisconsin.
Baribeau said a joint Navy and Lockheed Martin team with RENK AG, the original equipment manufacturer, conducted a "root cause analysis: and found a "class design defect" with the high-speed clutch bearings.
RENK AG is a German industrial company headquartered in Augsburg, Germany that builds parts for various military vehicles.
"A design fix has been developed and is in production, to be followed by factory and sea-based testing. The Navy is determining the plan to install this fix on ships in the Fleet," Baribeau said.
He noted the fix will also be installed and tested on new construction ships before the Navy takes delivery of the vessels.
Moreover, the government implemented unspecified measures to mitigate risk in currently in-service Freedom-variant LCSs "while the Navy moves swiftly to correct the deficiency and minimize operational impacts." Baribeau said.
Baribeau confirmed Lockheed Martin will be responsible for the cost of the repairs, but the monetary value of repairing the defect will be determined once a government-approved solution is identified.
He said the overall cost of this issue will be shared between the government and Lockheed Martin "along the provisions of the contract."