The nominee to lead the Pentagon's Cost Assessment and Program Evaluation (CAPE) office said Tuesday the Navy does not currently have a "credible pathway" to meeting its 355-ship plan.
John Whitley, the CAPE director nominee, told lawmakers during his Senate Armed Services Committee confirmation hearing the decision not to release a 30-year shipbuilding plan with the Navy's budget request this year was due to the document's lack of realistic fiscal considerations.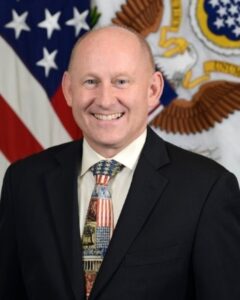 "I think one of the challenges we've had with the president's budget submission, and why we did not submit the 30-year shipbuilding plan, was because it did not have a credible pathway to get there," Whitley said. "It assumed resource constraints for five years and then assumed there were no resource constraints. And what the [Navy] Secretary was concerned about was that it was not a credible document to send to you."
Whitley currently serves as the Army comptroller and has performed the duties of the CAPE director following the resignation of Robert Daigle, who left the department last May.
Sen. Roger Wicker (R-Miss) asked Whitley about potential discussion the Navy would go after a lighter fleet, referencing a leaked memo that called for cutting the number of required aircraft carriers from 11 to nine.
Whitley said he couldn't discuss what a future capability mix would look like, while noting the service has asked CAPE to work on getting a "a credible path to a number as quickly as possible that's north of 355 [ships]," noting senior Navy officials previous comments that a larger fleet will be required to compete with China.
"We need to move toward a more distributed fleet, a more survivable fleet, a more lethal fleet. I think those are the key attributes that will be guiding the analyses that are underway right now," Whitley said.