The Pentagon's top acquisition official said Monday "sooner is better" for receiving supplemental funding to help the department pay billions of dollars in potential pandemic-related claims from industry.
Acquisition chief Ellen Lord also told reporters Monday the companies across the Pentagon's defense industrial base have nearly all reopened for business, with the department continuing to assess the three-month impact on programs due to production line closures.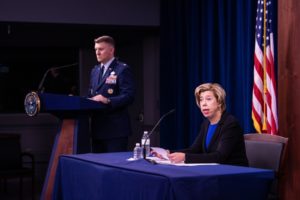 "We see an enormous amount of recovery in the defense industrial base. It depends on location and what type of work is being performed, but there is enormous progress coming back. A lot of work is being done as telework, although for manufacturing we need people on the [production] lines so we're doing things differently in terms of following CDC guidelines and so forth," Lord said. "We're getting back up to speed. We don't know what that new normal will be on speed, but we see an enormous amount of recovery. And we think there's roughly a three-month impact, but we will continue to monitor."
Only two of the 10,509 companies tracked by the Defense Contracting Management Agency are currently closed, while 31 of the 11,413 companies tracked by the Defense Logistics Agency are closed right now.
Those numbers are down from 93 and 437 companies, respectively, when Lord last provided an update at the end of April.
Lord previously told lawmakers earlier this month the department is seeking Congress' help with covering industry's costs to keep workers employed during the pandemic and implementing new safety measures to keep production lines open, which she estimated will likely be in the "lower double digits of billions of dollars" (Defense Daily, June 10). 
On Monday, Lord reiterated the Pentagon has submitted an estimate of the costs to White House Office of Management and Budget, adding "sooner is better" for receiving the supplemental funding.
"We have not yet received any claims because I believe the defense industrial base is waiting to more clearly what the process is, and we're working with them on the criteria," Lord said. 
Senate Armed Services Committee leadership have signaled their support for the Pentagon's call to receive congressional help with paying the billions of dollars in pandemic-related claims from industry (Defense Daily, June 11). 
The Pentagon is also still working through an assessment of how the pandemic-related closures impacted programs across the department between April and June, according to Lord
"I continue to use the words slow down, and impact, and did not say the word delay, which carries a very different connotation," Lord told reporters. "I won't discuss any program specifically, but we have seen inefficiencies across most programs. COVID-19 is shutting down defense manufacturing facilities and production lines, disrupting supply chains, and distressing the financial stability of the companies DoD relies on to protect the nation."
Lord also said Monday the Pentagon has signed an official agreement to delegate authority to the U.S. International Development Finance Corporation (DFC) to execute $100 million loans under the Defense Production Act to support the continued COVID-19 response effort.
"As detailed in our CARES Act spend plan, we will utilize the $100 million to provide a subsidy for multiple federal loans to create, maintain, protect, expand, or restore domestic industrial base capabilities to support national COVID-19 response," Lord said. "DFC also has the unique ability to address this crisis with a global perspective, coordinating their international efforts with this new domestic, time-limited authority."