The largest union at General Dynamics' [GD] Bath Iron Works (BIW), Local S6 of the Machinists Union, voted on June 21 to go on strike for the first time in decades.
The union represents 4,300 of BIW's 6,700 employees. According to the group's  Facebook page, the strike authorization won with 87 percent of the vote conducted online and over phones. The strike comes as the union rejected a new three-year contract.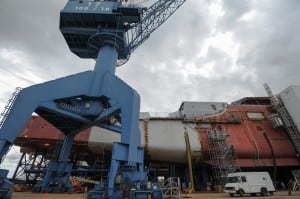 The union opposition to BIW's contract offer focuses on seniority privileges; increases to employee healthcare contribution, copays and deductibles; and whether the company should hire subcontractors.
"We obviously are disappointed by this result, but are prepared should a strike occur. BIW will be making additional information available to its employees in the near-term so they can plan accordingly," the company said in a statement on June 21.
Assistant Secretary of the Navy for Research, Development and Acquisition James Geurts told reporters today he is "very concerned" about the dispute.
"The Navy's expectations are that the leaders of General Dynamics Bath Iron Works and the International Association of the Machinists and Aerospace Workers will work very diligently and with a sense of urgency to come to agreement so that we can get our ship construction – keep it on track," Geurts said.
"We are very dependent on Bath Iron Works for their production and support of our ships for our sailors. And my expectation is both sides will work aggressively and with a sense of urgency so we can get these programs continuing to execute," he added.
In 2015 the union and company last agreed to a labor agreement months before the contract expired with some union concessions in an attempt to help BIW bid for a new class of Coast Guard cutters. That agreement included allowing the company to hire subcontractors to help it be flexible in bidding for shipbuilding contract.
However, in 2016 the Coast Guard awarded Eastern Shipbuilding Group a potential $2.4 billion contract for the detail design and production of up to nine Offshore Patrol Cutters (OPCs) over BIW. The Coast Guard eventually expects to procure 25 OPCs with the total life-cycle cost estimated at $10.5 billion (Defense Daily, Sept. 16, 2016).
Earlier this year, BIW also lost the potential $5.6 billion 10 ship FFG(X) future frigate contract to Fincantieri's Marinette Marine (Defense Daily, May 20).
In March, BIW admitted half of its workforce was taking time off amid the COVID-19 pandemic, which has likely caused the company to fall behind on its shipbuilding work lately (Defense Daily, March 31)
Before voting down the contract and for the strike, the Local S6 negotiating committee argued to members on their website "let's not forget that the very contract BIW's President is complaining about is the very contract this membership gave BIW in 2015 so they could be competitive, all while our families suffered through 4 ½ years without general wage increases."
The last strike at BIW lasted for 55 days.
The shipyard is currently working on the last of three Zumwalt-class destroyers, the future USS Lyndon B. Johnson (DDG-1002), and six new Arleigh Burke-class destroyers.