General Dynamics' [GD] Bath Iron Works (BIW) and a union representing 4,300 striking employees at the Maine-based shipyard have agreed to a new contract following a two-month strike, both said on August 23.
GD and the International Association of Machinists and Aerospace Workers Local Lodge S6 (LS6) announced a tentative agreement
to a new collective bargaining agreement earlier this month. The new contract will run for three years until Aug. 20, 2023 (Defense Daily, Aug. 10). The strike began on June 22.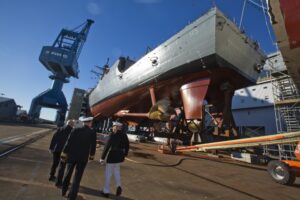 In a company statement, on August 23 BIW said it is pleased to welcome back the employees and "get back to the important work of building ships on schedule for the U.S. Navy."
GD chairman and CEO Phebe Novakovic previously said during the company second quarter earnings call that the strike had an "immaterial" result in company earnings since Bath is GD's smallest shipyard and generates less than two percent of profits.
BIW was already previously behind on DDG-51 Arleigh Burke-class destroyer construction while the strike only made it fall further behind.
"As we move forward to deliver on our commitments to the U.S. Navy and meet our obligations as part of this nation's critical infrastructure, we must do so together, on time, every time," BIW added.
On Aug. 23, the union said 87 percent of its members voted yes on the new contract and that employees were starting that evening at regular working hours.
"Local S6 congratulates you all on the incredible show of solidarity. For many different reasons, the membership has unified like never before," the union said in a website statement.
Earlier this month, Assistant Secretary of the Navy for Research, Development and Acquisition James Geurts said he was optimistic the tentative agreement would end the strike and noted "it will be really a big positive for us to get that shipyard back up and get the full team focused on generating capabilities out of that shipyard that our Navy's relying on."
The Local S6 represents 4,300 employees out of a total shipyard count of 6,800 employees.