The future USS Minneapolis-Saint Paul (LCS-21) Littoral Combat Ship (LCS) finished acceptance trials this month and is now due to be delivered to the Navy in 2021.
The ship was built by prime contractor Lockheed Martin [LMT] with Fincantieri Marinette Marine performing ship construction in Wisconsin.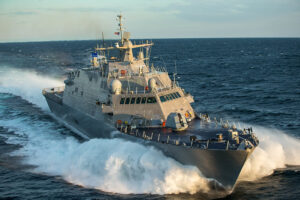 Trials occurred in Lake Michigan and included a full-power run, maneuverability testing, and surface and air detect-to-engage demonstrations of the ship's combat system. Lockheed Martin noted major features and systems tested included aviation support, small boat launch handling and recovery, and machinery control and automation.
Trials ended on August 19 and the ship is next scheduled to undergo final outfitting and fine-tuning before being delivered to the Navy, expected in early 2021.
LCS-21 is the 11th Freedom-variant LCS. The other LCS model is the Independence-variant, built by Austal USA at its shipyard in Mobile, Ala.
"LCS 21 joins a fleet of sister ships delivering unique flexibility and capability to the U.S. Navy. Freedom-variant LCS are inherently capable to serve freedom of navigation, drug interdiction and humanitarian missions, and with additional capabilities onboarded, they can serve further focused missions," Joe DePietro, Lockheed Martin vice president and general manager for Small Combatants and Ship Systems, said in a statement.
"On LCS 21's acceptance trials, we successfully tested the ship's maneuverability, automation and core combat capability," he added.
"I am pleased to see another successful acceptance trials on Lake Michigan. Together with our partners, Lockheed Martin and the U.S. Navy, our proud shipbuilding team puts in long hours to deliver a proven warship for the fleet," Jan Allman, CEO of Fincantieri Marinette Marine, said in a statement.