The Navy's top acquisition official on Wednesday said the service completed debriefing all losing competitors for the FFG(X) future frigate competition and responded to concerns about the cost of the ship.
"We've done all the debriefs there. I committed to all the companies to do very detailed and transparent debriefs and that's all occurred. And so we are launching that program and…as we work through getting the program up and running with Marinette, we're executing that as we had planned and expected and I think we have positioned that program well for success," Assistant Secretary of the Navy for Research, Development and Acquisition James Geurts told reporters Wednesday during a phone roundtable.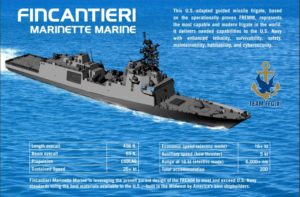 Fincantieri's Marintte Marine won the April 30 initial contract for detail design and construction (DD&C) to deliver up to 10 total FFG(X) frigates. The contract covers DD&C for the first ship and includes options for the nine follow-up vessels. If all nine options are exercised, the contract value will reach $5.6 billion (Defense Daily, April 30)
Fincantieri bid with a ship based on the FREMM frigate built for the French and Italian navies. It beat competitors Huntington Ingalls Industries [HII], Austal USA, and General Dynamics Bath Iron Works [GD].
During the initial announcement last month Geurts said the lead ship is expected to cost $1.281 billion including design money, construction of the first ship, government furnished equipment, program office, and other associated costs. The Navy's independent cost estimates expected Fincantieri's follow-on ships to cost about $781 million on average in constant year FY 2018 dollars compared to the Navy's requirements of it having an objective of $800 million and a maximum threshold of $950 million.
On Wednesday, Geurts addressed concerns that cost estimates may be too low compared to traditional new ship estimates, arguing he was comfortable with the program.
"My only comment on that is we've tried a different approach in frigate to take more proven technology both on the combat systems and with the parent design and in doing that trying to bend the normal cost curve as compared to previous programs as well as…awarded those fixed price incentive contracts."
So I'm comfortable that we've got that program positioned well, we worked closely with all the ship designers to understand and get the requirements real and executable and so we look forward to continuing to get that program into detail design and then into construction," Geurts added.
He did not cite specific concerns, but a recent Congressional Research Service (CRS) report updated May 4 noted concerns about the accuracy of the ship's procurement costs compared to the known unit procurement cost of other recent surface combatants.
The report said both the Congressional Budget Office and Government Accountability Office have written about how lead ships in shipbuilding program often become more expensive to build than the Navy originally estimates and if that happens follow-on ships are likely more expensive as well.
"Ships of the same general type and complexity that are built under similar production conditions tend to have similar costs per weight and consequently unit procurement costs that are more or less proportional to their displacements," the report said.
If the estimated cost per thousand tons of displacement of the FFG(X) is about equal to that of the Freedom-variant Littoral Combat Ship or the Coast Guard National Security Cutter, that would increase the estimated unit procurement cost of the third and later FFG(X)s by 17 percent. CRS said that would increase over the Navy's estimate of about $940 million to closer to $1.1 billion.
That increases further if comparing to the newest Arleigh Burke-class destroyers.
"Setting the estimated cost per thousand tons of displacement of the FFG(X) about equal to that of the Flight III DDG-51 would increase the estimated unit procurement cost of the third and subsequent FFG(X)s from the Navy's estimate of about $940 million to an adjusted figure of about $1,470 million, an increase of about 56%," the report said.