An F-35A Joint Strike Fighter (JSF) crash landed at Eglin Air Force Base, Fla., on late Tuesday, days after an F-22 Raptor crashed at the same base, the Air Force said.
The aircraft was assigned to the 58th Fighter Squadron in the 33rd Fighter Wing and crashed upon landing at 9:30 p.m. on May 19. The pilot ejected and was transported to the 96th Medical Group Hospital for evaluation and monitoring and is in stable condition.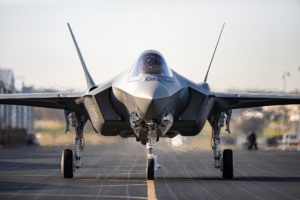 The Air Force said during the accident the pilot was "participating in a routine night training sortie."
Responders from the 96th Test Wing are on site and have secured the area.
The Air Force said the accident is under investigation, but noted there was no damage t0 civilian property.
This crash comes after an F-22 Raptor also based at Eglin crashed with the pilot safely ejecting on May 15. That event occurred at the base's test and training range. At the time of the crash, the Air Force said an investigation was underway (Defense Daily, May 15).
The last JSF to crash was an F-35B Marine Corps vertical takeoff and landing variant in coastal South Carolina in 2018 (Defense Daily, Sept. 28, 2018).
Following the F-35B crash, the Pentagon's F-35 Joint Program Office grounded all F-35s to inspect all F-35 engine fuel tubes (Defense Daily, Oct. 11, 2018).
The office then grounded some of the same aircraft a second time that month to inspect two other suspect fuel supply tubes that could have become safety issues (Defense Daily, Oct. 25, 2018.
The Joint Program Office did not comment if they are considering grounding aircraft again but said it is supporting the Air Force's investigation.
"F-35 engineers will be involved in the review of conditions, and determination of root cause. Information derived from the mishap investigation will be applied to future corrective actions as appropriate," the office told Defense Daily in an email.
The latest crash happened after F-35 builder Lockheed Martin [LMT] reported it is slowing production of the aircraft as a proactive measure to mitigate supplier delays due to the COVID-19 pandemic. The company said that move could impact up to 25 aircraft (Defense Daily, May 19).