Naval Air Systems Command (NAVAIR) awarded Lockheed Martin [LMT] two contracts worth a total of $1.16 billion on Nov. 26 to produce and deliver 15 Lot 14 F-35A Joint Strike Fighters for Australia and the first advance support award for 48 Lot 15 F-35As for the U.S.
The first award, a $831 million modification, provides for full production and delivery of 15 Lot 14 F-35As for Australia. The majority of the work will occur in Fort Worth, Texas (59 percent), and El Segundo, Calif. (14 percent), and is expected to be finished by March 2023.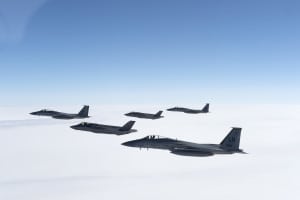 The full award amount was obligated via non-Defense Department participant funds, with none set to expire at the end of this fiscal year.
The second award is a $328 million new advance acquisition contract to procure long-lead material, parts and components to support Lot 15 production and delivery of 48 F-35A aircraft for the U.S. Air Force. This is the first award for Lot 15 aircraft.
Most of the work will be split between Fort Worth (35 percent), El Segundo (25 percent), Warton, U.K. (20 percent), and Orlando, Fla. (10 percent), and is expected to be finished by June 2023.
In all, $328 million in fiscal year 2020 Air Force aircraft procurement funds were obligated at award time and are not set to expire at the end of this fiscal year. The announcement noted this second award was not competitively procured, pursuant to U.S. Code regulations.
A contract opportunities notice from February said the Defense Department intends to solicit Lockheed Martin in several contracts for Lots 15 through 17 for the F-35. Lot 15 is set to include a total of 116 F-35As Air Force variants, 29 F-35Bs Marine Corps variants, and 24 F-35Cs Navy variants. Lot 16 would include 101 F-35As, 32 F-35Bs, and 24 F-35Cs. Lot 17 would include 98 F-35As, 37 F-35Bs, and 24 F-35Cs (Defense Daily, Feb. 20).
Last month, the Defense Department said it finished striking a new $34 billion deal with the company to buy 478 F-35s and reduce the average aircraft price for 12.7 percent by Lot 14. The deal covered low-rate initial production F-35s, especially 149 in Lot 12, 160 in Lot 13, and 169 in Lot 14 (Defense Daily, Oct. 29).
Under this new deal, F-35As will lower to an expected $77.9 million each on average by Lot 14. Overall F-35A unit cost is set to get below $80 million by Lot 13.