The ongoing pandemic will delay the first two phases of the Army's Robotic Combat Vehicle (RCV) experimentation effort, an official said Wednesday, while also noting a third phase has been restructured to boost competition as the service moves from prototyping to programs of record.
Maj. Cory Wallace, the lead official for RCV, confirmed an experimentation with surrogate robotic vehicles planned for this April has been postponed to early July and that the Phase 2 company-level demonstration has been pushed from FY '21 to the second quarter of FY '22.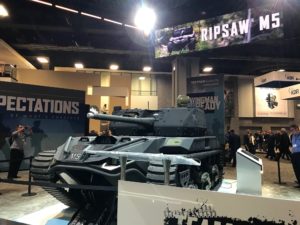 "What you're going to see here is that there's still plenty of opportunities to compete. The bottom line which we want to communicate to you all is that the competition will no longer take place in the experimental realm, but there's going to be robust competition in the program of record realm," Wallace said during an online NDIA Michigan industry event.
Wallace noted the Army still expects to meet its FY '28 first unit equipped date despite the initial delays, adding the first phase platoon-level experiment with surrogate robot test vehicles is expected to be completed by mid-August.
The Phase 2 experiment, now set to take place in FY '22, will be the first demonstration with QinetiQ North America's light variant and a Textron [TXT] team's medium variant prototypes. The Army announced the prototype deals in January for each company to deliver four test vehicles (Defense Daily, Jan. 9).
The company-level demonstration, which also includes M113s as RCH-Heavy surrogates, will be used to inform Milestone B decisions for the RCV-L and RCV-M prototypes, according to Wallace.
"Those platforms are going to be conducting everything from reconnaissance to direct-fire augmentation," Wallace said. "At the end of Phase 2, we're going to take a pause and we're going to let Army senior leaders make a decision. This decision is going to be 'did what we see in Phase 2 constitute what we can consider a minimally-viable product?' If the answer is yes, then we are going to move toward a Milestone B [decision] for either the RCV-Light or the RCV-Medium."
Wallace noted that Milestone B decisions for RCV-L and RCV-M will be made a year apart, or potentially pushed back to a later date based on the data and feedback gathered in the Phase 2 demonstration.
The third phase of RCV experimentation, which will take place around the same time as Phase 2, will now be split into two separate demonstrations: a contractor-led experiment that will require the Army to purchase four additional RCV-M prototypes and combined arms breach demonstration to inform a path forward for RCV-H.
Phase 3A will include a focus on assessing industry's ability to deliver modular mission payloads, including kits for counter-UAS, electronic warfare, smoke obscuration and mobility and countermobility.
The new Phase 3B combined arms breach demonstration will use versions of Mobile Protected Firepower offerings for RCV-H rather than purpose-built prototypes, according to Wallace, who noted the experiment will inform the Army's decision whether to continue using surrogate platforms or to go for a clean-sheet design.
"There's a couple reasons for this decision. First reason being, we have received very clear feedback from the user community that in order for an RCV-Heavy to meet its mission role being a decisive lethality wingman it has to be as survivable as a tank but it has to weigh way a lot less, and it also has to have the same lethality. So that poses a lot of questions, and it puts us in a conundrum with respect to filling that desired use case which is dependent on a lot of critical technology that may or may not be mature by that time," Wallace said. "Before we ask the government to make substantial investment in that regard, we need to do a couple things. We need to make sure the technology is ready to go forward. The second thing we need to make sure is deciding if the use case is even valid."