The House Armed Services Tactical Air and Land Forces Subcommittee is calling on the Army to brief on the status of its Stryker Medium Caliber Weapon System (MCWS) program, which has seen a group of vendors drop out of the program.
The subcommittee's markup of the fiscal year 2021 defense authorization bill, released Monday, also includes a directive to address whether the Army has plans to build commonality between the weapon station for the 30mm MCWS and the ongoing Stryker Interim Maneuver Short-Range Air Defense (IM-SHORAD) program.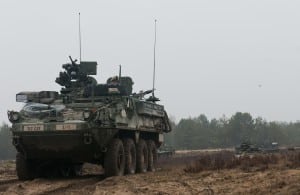 "This is one of those situations in which there is some question about whether or not this process is going to consider the range of technical options that might be available out there in industry to meet the Army's requirements," committee aides told reporters Monday. 
Army officials told reporters last week there is "high confidence" in the Stryker 30mm MCWS program, which is on track to receive final proposals in August, noting at least two competitors dropped out during the design study phase due to affordability concerns and a lack of confidence in "technical glidepath" (Defense Daily, June 16). 
Committee aides said the markup language is intended to ensure the fairness and openness of the competition, adding the directive for a briefing would not impact the current MCWS strategy.
"The only thing we're asking for is a briefing to see if there would be potential for any commonality between the two systems that are on IM-SHORAD and the Medium Caliber Weapon System. It's mostly just a request for information," committee aides said. 
The mark directs the Army secretary to provide a briefing to the House Armed Services Committee by February 2021 on potential plans to go after weapon station commonality between the two programs.
"The committee is interested to know what advantages, if any, the Army could gain by developing as much commonality as possible between both systems with turret hardware and fire control software," lawmakers wrote in the mark-up. "Commonality has the potential to reduce the overall acquisition and life cycle management costs of both weapons systems."
While MCWS aims to find a new 30mm cannon for Strykers, IM-SHORAD aims to integrate a new air defense platform on the fleet capable of taking down unmanned aircraft systems, rotary-wing and fixed-wing threats, as well as cruise missiles.
Both weapon systems are set to be based upon an unmanned turreted weapons station integrated on Strykers. 
Leonardo DRS was selected to provide the mission equipment package for the IM-SHORAD prototype, and told Defense Daily in March the first five initial test systems have been delivered to the Army with live fire testing beginning just 16 months after the initial contract award (Defense Daily, March 16).