The House Armed Services Subcommittee on Intelligence and Emerging Threats & Capabilities is calling for the Deputy Secretary of Defense to handle oversight of the Pentagon's Joint Artificial Intelligence Center (JAIC), as well as creating a new board of directors for the organization to provide long-term strategic guidance.
The subcommittee included the directives in its markup of the fiscal year 2021 defense authorization bill, released Sunday, calling it a means of continuing the maturation of the two-year-old JAIC.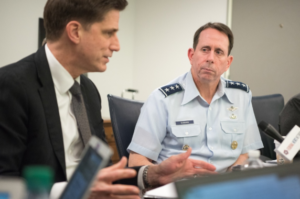 The mark includes shifting oversight of JAIC from the Pentagon's chief information officer to the Deputy Secretary of Defense, including responsibility for the coordination of development and acquisition of AI activities.
JAIC's director would report directly to the deputy secretary, with the DoD CIO handling specific AI management responsibilities as delegated.
Air Force Lt. Gen. Jack Shanahan, JAIC's first leader, recently retired and the organization named Nand Mulchandani, its chief technology officer and a former Silicon Valley executive, as its acting director (Defense Daily, June 4). 
The mark also directs the establishment of a JAIC board of directors to be composed of the deputy secretary of defense, serving as the chair, the five under secretaries, and up to five members from academia or the private sector. 
"The concept is to marry senior-level DoD decision makers with a perspective from the outside, so you'll have representation from both civilian, senior military as well as non-governmental [officials] from academia or private industry. It is not firmly just private sector individuals, but bringing them together to afford the director of JAIC a resource they can turn to for longer-term, strategic-level direction and guidance," committee aides told reporters.
JAIC's board of directors would be tasked with providing strategic guidance, advising Pentagon leadership on AI development, advising on ethical matters, conducting long-term AI studies and assisting in "developing strategic-level guidance on AI-related hardware procurement and supply-chain matters."
The board would meet at least once each fiscal quarter and provide a report to Congress at the end of each fiscal year through 2024 on its activities over the preceding year. 
The subcommittee's mark also requires GAO to conduct an overarching assessment of the department's AI strategy "to ensure investments, such as Project Maven and those within [JAIC], are synchronized across the joint force and the defense intelligence enterprise."
JAIC recently awarded its largest contract to date, a five-year, $800 million deal to Booz Allen Hamilton [BAH], to deliver AI-powered capabilities for use on the battlefield (Defense Daily, May 18).