The Pentagon's Joint Artificial Intelligence Center (JAIC) has named its chief technology officer (CTO) as its acting director following the retirement of the organization's first leader later this summer.
Nand Mulchandani, a former Silicon Valley executive, officially took over for Air Force Lt. Gen. Jack Shanahan on June 1, and will remain in the position until a new three-star general is confirmed for the permanent role.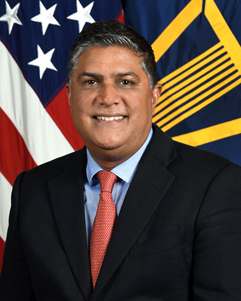 "[Nand] transformed the organization from the moment he showed up," Shanahan said on Thursday during an online Mitchell Institute Event.
Shanahan said Mulchandani, whose most recent private sector role was vice president of software firm Citrix [CTXS], has taken a specific focus on leading the organization's support of the Joint All-Domain Command & Control program, "looking at it from a different lens of a software company CEO."
In a statement, Mulchandani noted Shanahan's role in establishing the department's first AI-focused organization and leading the Pentagon's Project Maven program to utilize machine learning algorithms for ISR tasks.
"Lt. General Shanahan leaves behind an incredible legacy as an AI pioneer for the Department of Defense. His 36 years of faithful service to our nation culminating in the establishment of Project Maven and the JAIC is truly inspiring," Mulchandani said. "As all great founders would do, we've worked together to assemble a great team of leaders and specialists in AI and data science, product builders, policy and strategy, and operations to help scale our AI efforts across the Department of Defense. We're inspired and excited to build on this foundation to win in this exciting new area of technology."
Shanahan is set to officially retire from the Air Force on August 1, and Mulchandani will return to the CTO role with JAIC once a permanent director is in place.