Bell [TXT] on Thursday announced its full team of suppliers for its 360 Invictus helicopter, its offering for the Army's Future Attack Reconnaissance Aircraft (FARA) program.
Partners building the Invictus prototype aircraft include L3Harris Technologies [LHX] providing its WESCAM MX-15D multi-sensor targeting system and Astronics Corp. [ATRO] building the modular framework for airframe power generation.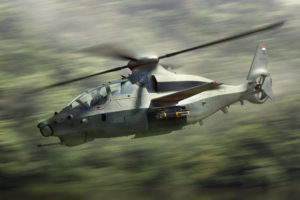 "Team Invictus is working together to show how cutting-edge technology will give soldiers the ability to confidently operate in the complex and contested battlespace of multi-domain operations," Chris Gelher, Bell's program director for FARA, said in a statement. "Each team member brings a capability that is vital to the success of the Bell 360 and we are honored to have proven, capable, and well-respected industry partners on Team Invictus."
The Army announced in March it had selected Bell's Invictus and Sikorsky's [LMT] Raider X to move forward in the FARA competition, which looks to find a new platform that will serve as a "knife fighter" helicopter to fill the gap left by retiring the OH-58D Kiowa Warrior (Defense Daily, March 25). 
Bell has previously noted that General Electric's [GE] Aviation business would provide its 3,000-SHP T901 engine for Invictus, and Collins Aerospace, which is part of Raytheon Technologies [RTX], is integrating a new next-generation avionics system to create the "digital backbone" of the aircraft.
MOOG Inc. [MOG.A] will build Invictus' flight control computer electronics and software to enable the fly-by-wire system and TRU Simulation + Training is providing high-fidelity flight simulators. 
Additional partners on the 360 Invictus team include ITT-Enidine Inc. providing passive Liquid Inertia Vibration Eliminator units, Mecaer Aviation Group's landing gear system and Parker Lord for the helicopter's rotor dampers and Active Vibration Control system.