The Army has completed a successful first captive-carry test of its multi-mode seeker for its future Precision Strike Missile (PrSM), which will be included as the initial technology update to the weapon in fiscal year 2025.
Brig. Gen. John Rafferty, director of the Long-Range Precision Fires Cross-Functional Team also told reporters Thursday a contract for PrSM's enhanced technology maturation risk reduction (E-TMRR) phase with Lockheed Martin [LMT], the sole competitor left in the competition, is "imminent."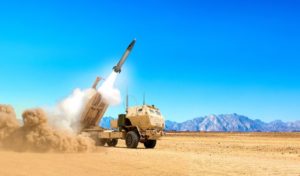 "We want the range [with PrSM], but we also want to explore targets across multiple domains. And that's what we believe this multi-mode seeker will give us the ability to do. And yesterday was a very important first step in demonstrating the maturity of the technology and the promise for integrating it into the missile for delivery as quickly as we can," Rafferty said.
PrSM is the Army's program to replace its legacy ATACMS missiles, also built by Lockheed Martin, with plans to award a production contract in 2021 and begin initial fielding in 2023.
The initial base missile is set to reach ranges out past 500 kilometers, while subsequent "technology spirals" will push to ranges of 700 to 800 kilometers.
Lockheed Martin conducted a third successful flight test of its PrSM offering at the end of April, it's first demonstration following Raytheon's [RTN] exit from the competition, a critical step toward the award of an Enhanced Technology Maturation & Risk Reduction contract (Defense Daily, April 30). 
"We're very close. I just talked about this morning with the program office. I'm confident and our industry partners are confident that it's imminent," Rafferty said. 
Mike Turner, a program lead with Army Combat Capabilities Development Command Aviation & Missile Center, said the test Wednesday at Redstone Test Center in Alabama demonstrated the seeker's ability to provide PrSM with enhanced capabilities for detecting and locating hard-to-track targets.
"What we did yesterday is we had the seeker mounted on a pod under the wing of an aircraft. We presented a target on the range and the aircraft flew over and adjacent to the target to expose the sensor to that target so we could look at the capability to detect and locate the target," Turner said. "We're pleased with the preliminary results. What that means for the future is that in future long-range fires missiles is we could use this technology to locate targets in an anti-access/area denial environment that may have larger than we're used to dealing with target location areas."
The multi-mode seeker effort first started as an Army technology development effort in 2015, and Rafferty noted a full-rate production competition will be held in FY 2025 around the urgent material release to the field.