Northrop Grumman [NOC] said Wednesday it completed a successful static test of the rocket motor for the Army's future Precision Strike Missile (PrSM).
The static test was intended to validate the rocket motor design for production, as the Army aims to begin fielding the
Lockheed Martin [LMT]-built PrSM missile in 2023.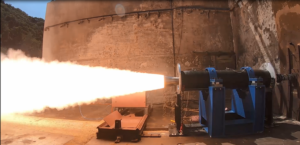 "With another successful rocket motor test complete, we are one step closer to providing the U.S. Army with a next-generation, long range fires capability," Rebecca Torzone, Northrop Grumman's vice president for missile products, said in a statement. "Our new motor delivers enhanced performance that translates to increased weapon load out and standoff for our warfighter."
Northrop Grumman, which confirmed to Defense Daily the static fire test was conducted this past September, said the motor "met all performance requirements after being conditioned to extreme cold temperatures."
PrSM is the Army's program to replace its legacy ATACMS missiles, with Lockheed Martin serving as the prime contractor building the new weapon system and Northrop Grumman supplying the capability's rocket motor.
"This success from our PrSM motor supplier is great news. PrSM recently entered the Engineering and Manufacturing Development phase of the program, paving the way for system qualification and fielding of this critical next-gen munition," a Lockheed Martin spokesperson said in a statement to Defense Daily.
The current ATACMS system, also built by Lockheed Martin, uses a rocket motor supplied by Aerojet Rocketdyne [AJRD].
Northrop Grumman said its rocket motor solution for PrSM "incorporates the latest high performance solid propulsion technologies as well as enhanced soldier-safety features," with additional qualification tests set to take place ahead of initial fielding in 2023.
This past fall, the Army awarded Lockheed Martin a pair of deals covering a set of early operational capability missiles and a move into the engineering and manufacturing development phase of the PrSM program (Defense Daily, Oct. 1).
Lockheed Martin has conducted a series of PrSM flight tests, including a maximum range test shot at Vandenberg Space Force Base in California in October and the first side-by-side missile firing as part of Project Convergence 2021 (Defense Daily, Oct. 14).
Army officials have said the base PrSM system could be asked to reach ranges out past 500 kilometers, while subsequent technology spirals may push to ranges of 700 to 800 kilometers.