The Pentagon's lead data official said Wednesday the department's newly created chief digital and artificial intelligence officer (CDAO) role will help "knock down some bureaucratic walls," and cited a recent push to grow international collaboration on data-related initiatives.
David Spirk, DoD's chief data officer, specifically said the new CDAO position and the recent launch of the AI and Data Accelerator initiative, or AIDA, are bolstering the department's push to become more data-centric to maintain a competitive advantage against adversaries and adopt new concepts, such as Joint Domain Command and Control.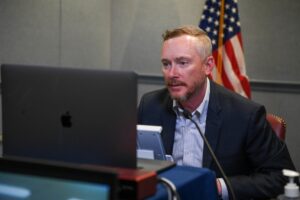 "We're showing a lot of promise. All of those initiatives have kicked off and are beginning to show what that data-driven future looks like," Spirk told the Defense Writers Group. "If you don't organize your data and if you can't create repeatable, testable and trusted data workflows from the tactical edge all the way up to your senior-most decision making boardroom activities, then you will just lag behind."
The Pentagon announced in December plans to establish the new CDAO role to oversee the CDO office, the Joint Artificial Intelligence Center and Defense Digital Service, as the Pentagon pushes to proliferate its integration of AI and advanced digital solutions (Defense Daily, Dec. 9).
"I truly do view this as a positive thing," Spirk said. "What it's going to allow is that stronger alignment to really accelerate into the future in a formal manner. I don't view it as a bureaucracy. If anything, the establishment of this activity knocks down some bureaucratic walls because it puts all of us under one vision that the CDAO can come in and lead."
Spirk said the CDAO will ensure data has "a lead role across the department," with the newly created position reporting directly to the deputy secretary of defense.
"What I think this means is that [Deputy Defense Secretary Kathleen Hicks] is doubling down again on the data-driven future for the department and ensuring this isn't a passing fad," Spirk said.
The Five Eyes intelligence sharing pact of the U.S., Australia, Canada, New Zealand and the U.K. have also recently established a CDO Council, which Spirk said has pushed to further collaboration and maturity of data-driven initiatives.
"I do have peers in our Five Eyes partners and others. But the Five Eyes is where we've really put a lot of emphasis in this first year of trying to build those formal structures and engagements," Spirk said. "It is vibrant. It continues to grow. And it continues to be one of those things that we're excited about."
The group is set to hold its first in-person meeting in February at U.S. Indo-Pacific Command headquarters in Hawaii pending the latest COVID-related travel restrictions, according to Spirk, who noted its members have also participated in DoD's own CDO council meetings with over 300 officials from across the department.
Spirk noted the U.K. Ministry of Defense's CDO recently led the completion of their organization's first data strategy, with the Pentagon having released its own enterprise-wide data strategy in October 2020 (Defense Daily, Oct. 8 2020).
The Pentagon's data strategy lays out specific goals for going after cloud-enabled data architectures, improving use of data for training AI algorithms and a new approach to recognizing data "as a strategic asset."
Spirk said NATO is also exploring establishing its own CDO position, noting he briefed the member organizations' chief information officers during a recent meeting.
"They've had the activity being conducted from portions of the CIO before, but they're starting to look at what that formal [CDO] organization would look like and how it would interact with its other counterparts. I think establishing that, what you'll see across the NATO partners is everybody getting in line and understanding how they're going to go ahead and formalize what we have in the U.S. and across some of our partners," Spirk said.