Honeywell [HON] announced Thursday the company has reached an agreement with the Army to demonstrate the latest version of its T55 engine for the service's CH-47 Chinook heavy-lift helicopters by 2023. 
Under the new Cooperation Research and Development Agreement (CRADA), Honeywell will install and test the upgraded T55-GA-714C engine on a Chinook at Fort Eustis in Virginia, a key step towards final qualifications for the new engine design.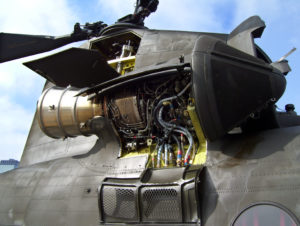 "Through this CRADA with U.S. Army Combat Capabilities Development Command Aviation & Missile Center, Honeywell is currently scheduled for installation and flight demonstration by Q2 2023.  Honeywell is currently evaluating opportunities to accelerate the schedule resulting in flight demonstration during the first half of 2022," Adam Kress, a spokesperson for Honeywell, told Defense Daily.
The T55 is the legacy engine for the Chinook, with the company noting that the newest upgrade can be incorporated by modifying existing engines or producing new ones.
"The new 6,000-horsepower engine is 25% more powerful and consumes 10% less fuel than the current T55. New modifications also make the next-generation T55 easier to maintain with lower operating costs and increased readiness for the warfighter," the company wrote in a statement. "Because the engine is based closely on the T55 version currently in use, almost no airframe changes are required — the same intake, exhaust and engine airframe mounts are used."