The U.S. Navy and Boeing [BA] recently proved the F/A-18 E/F Super Hornet can operate via a ski jump ramp in testing, a necessary step for India's aircraft carriers, the company said Monday.
The demonstration was held at Naval Air Station Patuxent River, Md., at an undisclosed time and showed the aircraft would work well with the Indian Navy's short takeoff by arrested recovery (STOBAR) system used on its aircraft carriers, validating previous simulation studies done by Boeing, the company said,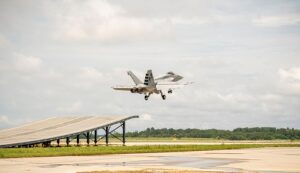 The Indian Navy operated one STOBAR carrier, the INS Vikramaditya, the former Soviet Admiral Gorshkov, and is building its first indigenous carrier, the future INS Vikrant, also a STOBAR type.
The Indian government plans to acquire up to 57 multi-role carrier borne fighters to serve on both carriers and is looking into choosing the Super Hornet. Other competitors are the Dassault Rafale and MiG-29K.
"The first successful and safe launch of the F/A-18 Super Hornet from a ski jump begins the validation process to operate effectively from Indian Navy aircraft carriers," Ankur Kanaglekar, India Fighter Sales lead for Boeing, said in a statement.
"The F/A-18 Block III Super Hornet will not only provide superior war fighting capability to the Indian Navy but also create opportunities for cooperation in naval aviation between the United States and India," he added.
Thom Breckenridge, vice president of International Sales for Strike, Surveillance and Mobility with Boeing Defense, Space & Security, argued this milestone "further positions the Block III Super Hornet as a versatile next-generation frontline fighter for decades to come."