The Navy is looking to reduce the time it takes to conduct the Service Life Modernization (SLM) effort for each F/A-18E/F Super Hornet to 12 months by 2024 to help reduce the service's strike fighter shortfall.
In the SLM program, aircraft builder Boeing [BA] takes Block II Super Hornets nearing the end of their 6,000-hour service lives and upgrades them to the newest Block III configuration, particularly raising the lifespan to 10,000 hours for each airframe.
Chief of Naval Operations Adm. Mike Gilday recently told a House panel that it makes more sense to induct current Super Hornets into the SLM than procure additional new Block III aircraft.
"It makes more sense to do that on existing airframes, to give them 10,000 hours with a more capable combat system, than it does investing in a brand new fourth generation aircraft. The challenge that we're having with those service life extensions, is that right now the turnaround time is about 18 months," Gilday said during a House Appropriations Committee defense subcommittee hearing on May 18.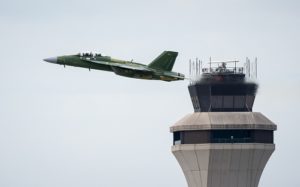 He said it currently takes Boeing 18 months to update the aircraft, but the Navy is working with the company to reduce that over time.
Gilday said reducing the timeline is part of how the Navy plans to reduce the strike fighter shortfall.
Last month, House Armed Services Committee members revealed the Navy's strike fighter shortfall is currently expected to last through 2031. Two years ago the Navy told Congress the strike fighter shortfall would end in 2030, but a year ago the Navy said it would be zeroed out in 2025 (Defense Daily, April 29).
During the recent hearing, Rep. Kay Granger (R-Texas), ranking member of the full committee, asked Navy officials how the service plans to reduce the shortfall if the Navy and Marine Corps are reducing their F-35 procurement requests and ending new Super Hornet production. The CNO said reducing the time it takes for each aircraft to undergo its SLM work will help.
"We want to drive that down to 12 months on each fuselage. And so we project that by next year we'll drive down from 18 to 15 [months] and then into '24, drive down to a 12-month turnaround times, which should bring that strike fighter shortfall inside of this decade. We're working very hard with the industry to do that," Gilday said.
The CNO said much of the pressure in reducing the SLM times "fall on industry," but he said they have been working closely with the Navy, which is now doing a lot of maintenance work on the aircraft so by the time they get to the depot-level facility corrosion that was previously an issue is being limited.
In 2019, Boeing said it plans to modify up to 40 Super Hornets per year at the peak after it ramps up the SLM work line (Defense Daily, May 7, 2019).
The first part of the SLM work extends the aircraft from 6,000 hours to 7,500 flight hours, with future installments set to extend it to the full 10,000 hours and incorporate additional Block III improvements.
Other Block III improvements will include a smaller radar signature, enhanced network capabilities, upgrades to the Lockheed Martin [LMT] Block II Infrared Search and Track System sensor, upgrades to the Active Electronically Scanned Array, enhanced communication system, new datalinks and computer, and an advanced cockpit system.
In 2020, Boeing delivered the first F/A-18E/F with SLM updates back to the Navy (Defense Daily, Feb. 6, 2020).
Gilday's push to reduce SLM work times is consistent with his statements from the 2021 Navy League Sea Air Space expo, when he chastised industry to stop lobbying Congress for things the Navy does not need, like more Super Hornets. At the time, Rear Adm. Andrew Loiselle, Director of Air Warfare Division (N98), clarified that Congress forcing the Navy to buy more Super Hornets takes away funds the service would otherwise prefer be spent on additional SLM updates (Defense Daily, Aug. 4, 2021).
During this May 18 hearing, the CNO said part of the overall strike fighter shortfall is due to slower than expected F-35 delivery rate.
"One lever to pull is new F-35s. And so while our aim was 100 in this particular [five year-Future Years Defense Program], we're only funding 69. I've asked for an additional six in my unfunded list to bring us up to 75. The second piece of this…is the service life extensions and modernization on existing Super Hornets."
Secretary of the Navy Carlos Del Toro also said at the hearing that he is "particularly concerned with the pace at which industry has been able to deliver F-35s. And, so for me, it's a significant concern and I just don't think that we should be making those investments if in fact we can't keep pace with the delivery of those aircraft to the Navy itself."