The final version of the fiscal year 2021 National Defense Authorization Act calls for reducing the Army's future augmented reality headset program by $230 million and calls for funding additional CH-47 Block II Chinooks while pressing the service on future plans for the heavy lift aircraft.
For the Integrated Visual Augmentation System (IVAS) being built by Microsoft [MSFT], the bill would limit the funds that can be used until Congress receives a briefing on the program following operational testing from the Army secretary and the director of operational test and evaluation.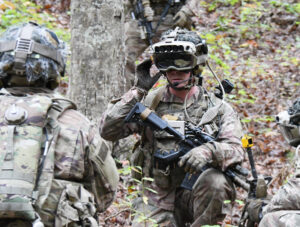 The IVAS cut follows a provision from the House's version of the NDAA, which was intended to adjust for operational test delays and plans to purchase fewer units (Defense Daily, June 26).
A committee aide told reporters this summer the IVAS reduction was also in response to the program's "very aggressive schedule," adding "we don't have the confidence we need at this moment, from an oversight perspective" until an Army assessment is provided.
The Army recently wrapped up its latest IVAS soldier evaluation, the first with the ruggedized version of the system, as it remains on track for initial fielding in late fiscal year 2021 (Defense Daily, Nov. 3).
The final version of the NDAA also reflects Congress' continued effort to assess the Army's plan to potentially reduce its CH-47 Block II program, which the service has looked at as an opportunity to shift funds toward modernization.
The bill adds $136 million in funding for an additional five CH-47F Block IIs above the original budget request.
"The conferees recognize the critical importance of ensuring robust, modern, medium-heavy lift helicopter capability within the Army. The conferees note the Department's decision to delay pursuing the CH-47F Chinook Block-II upgrade and are concerned about the impact this decision will have on warfighting capability, operational readiness, and the medium-heavy lift helicopter industrial base," lawmakers wrote.
Lawmakers direct the Pentagon's director of cost assessment and program evaluation to work with the Army senior leaders to provide an assessment of future CH-47 plans no later than 90 days after the bill's passage, to include the long-term outlook for Block II upgrades and updates on the Future Vertical Lift program's potential study of a future heavy lift capability.