The Army is wrapping up its third soldier evaluation for its future augmented reality headset, the first major test with the ruggedized version of the capability, as the service remains on track for initial fielding in late fiscal year 2021.
The latest milestone for the Integrated Visual Augmentation System (IVAS), developed by Microsoft [MSFT], included a company-sized training event with soldiers from the 82nd Airborne Division and a group of Marines testing the capability.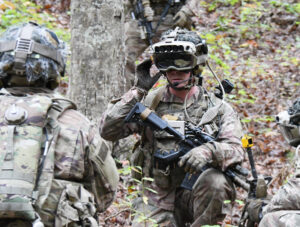 "If we want to develop systems at the speed of relevance, and systems that our soldiers want to use, this is the way we have to do it. We have learned so much through soldier-centered design. Our real desire is to let soldiers design it, and then our engineers build what they design. It's about listening to our soldiers," Brig. Gen. Tony Potts, director of the Army's Program Executive Office-Soldier, said in a statement. 
The third IVAS soldier touchpoint was held at Fort Pickett in Virginia, with the culminating field exercise concluding on Oct. 31 and the final events concluding this week, and included events for using IVAS to conduct land navigation, live fire, mission planning, rapid target acquisition and trench clearing.
A fourth and final IVAS soldier touchpoint is still on schedule for spring 2021, Bridgett Siter, a Soldier Lethality Cross Functional Team spokeswoman, told Defense Daily. 
Gen. James McConville, the Army chief of staff, in a statement lauded the Army's use of Other Transaction Authority agreements and the new Middle Tier Acquisition (MTA) authority to get IVAS fielded rapidly.
"Historically, our acquisition cycle has taken a long time, 10-15 years," McConville said. "(IVAS) was just an idea two or three years ago, and we were able to bring it to fruition quickly to what we saw today working together with industry, with our operators, and also our soldiers with touch points along the way using the authorities that Congress has given us to rapidly, bring this capability to our Soldiers in the field."
Ellen Lord, the Pentagon's top acquisition official, previously cited the Army's success in using the new MTA authority's flexibility to speed up the IVAS acquisition process.
"Use of rapid prototyping and the new authorities afforded by the MTA pathway allowed the [IVAS] program to shave significant time from the schedule, streamline metrics to better inform decisions and reporting and provide greater flexibility to manage risk," Lord said during an October press briefing.