The Army is currently working through the preliminary design review for its second tactical network modernization capability drop, CAPSET 23, with plans to begin procuring technologies in mid-2022, as the service continues fielding the initial CAPSET 21 systems to over 150 units this year. 
Officials leading the Army's tactical network modernization effort also detailed the results from the recent large-scale CAPSET 21 operational assessment at Fort Polk in Louisiana which found success enabling advanced communications capabilities while highlighting a need to continue refining power and cabling requirements.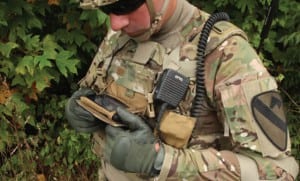 Looking ahead to CAPSET 23, the focus will shift to capability needs for Stryker Brigade Combat Teams, with the plans to lock in a final technology configuration by April or May of next year before moving to procurement.
The Army has said previously that CAPSET 23 may include capabilities to enable advanced mobility for its upgraded command posts, releasing a Request for White Papers last fall highlighting an interest in technologies for powering vehicle-mounted command post solutions and supporting enhanced communication between mobile command posts (Defense Daily, Nov. 16). 
The recent CAPSET 21 assessment at the Joint Readiness Training Center with the 1st Infantry Brigade Combat Team of the 82nd Airborne Division included utilizing capabilities such as two-channel software-defined radios, network transport capabilities, mission command applications critical to the Army's new Integrated Tactical Network.
"The paratroopers in the rotation provided us valuable feedback not only on the operational use of the capability but also how new training and new equipment fielding methods can be improved," Paul Mehney, spokesperson for Program Executive Office Command, Control and Communications-Tactical (PEO C3T), said during an AFCEA virtual panel.
Col. Rob Ryan, chief of operations for the Army's Network Cross-Functional Team, said the brigade-level assessment showcased an improved ability to understand where assets are located, especially in limited visibility, and proved out users' ability to bolster communications across the wireless ad hoc network.
"The goal of CAPSET 21 was to be expeditionary and intuitive," Ryan said during the panel. "What we found out through the [JRTC] rotation is that there actually was situational understanding. It was a better and clear PACE program throughout the mission profiles, and PACE being primary, alternative, contingency and emergency communications."
Lt. Col. Brandon Baer, product manager for PEO C3T, said while the assessment show success with individual systems, areas of improvement include better training to allow soldiers to understand how the entire suite of CAPSET 21 capabilities function as a system of systems.
"Training needs to improve, and that's not only materiel training, it's on the actual equipment themselves. We've been doing this for a good year and a half with [the BCT], so they've obviously had turnover in people. Because of their operational tempo, they haven't had as many touches on the equipment as we'd like," Baer said.
Baer added that the Army will continue to look at opportunities for addressing power and cabling requirements associated with the new technology as it continues to refine the equipment rolling out for the Integrated Tactical Network.
"That's another issue that continues to plague and that's just because the technology of power in batteries does not move as fast as the technology of radios and a lot of the stuff we deal with in PEO C3T," Baer said. "Right now, with Leader radios and end-user devices, like smartphones on the soldiers and future things that are coming like IVAS, a lot of this equipment we're adding to the soldiers has cables tied to it. So, how do we get that cabling to be less obstructive on the soldier? How do we get it closer fitting to the body? So that's another challenge that we're facing."