This month two leading House Armed Services Committee members submitted a bipartisan bill  to extend the Annual Report on Material Readiness of Navy Ships, conducted by the Board of Inspection and Survey (INSURV).
The bill, the Naval Readiness Act, H.R. 2609, was submitted by ranking member of the Seapower and Projection Forces Subcommittee Rep. Rob Wittman (R-Va.) and chairman of the Readiness Subcommittee Rep. John Garamendi (D-Calif.) on April 16. This legislation would extend the requirement for annual INSURV material readiness reports indefinitely, ending the current expiration date, and require the creation of both a classified report for congressional defense committees and an unclassified version for the public.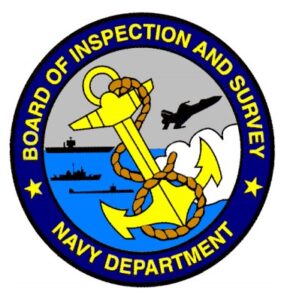 Previously, the fiscal year 2019 National Defense Defense Authorization Act directed the annual report not be required after October 1, 2021. If something like this new legislation does not pass, the last INSURV report released in March would be the last since Congress made INSURV reviews the law in 1882 (Defense Daily, March 5).
According to the INSURV website, INSURV was originally enacted to ensure Navy ships are properly equipped for prompt, reliable, and sustained mission readiness at sea.
"INSURV gives us a snapshot of the material condition of our fleet, and a thorough one at that. It's not the most popular program on the deck-plate; from the most junior enlisted to the most senior officer, it is a dreaded inspection, but a necessary one. It ensures that every submarine that submerges, surfaces; every warship that deploys, returns home," Wittman said in a statement.
"As it stands, the law mandates that the Annual Report be unclassified. This waters down the report due to the sensitive nature of material readiness. H.R. 2609 would require results be broken into both an unclassified and classified report, the former releasable to the public and the latter briefed directly to Congress," Wittman added.
Garamendi agreed with the sentiment.
"The INSURV program is critically important to ensure that Congress can continue to perform its oversight responsibilities of the Navy. This legislation removes the unnecessary expiration date for INSURV and ensures that the program will continue and a comprehensive report will be submitted to Congress annually," he said in a statement.
"As Chairman of the Armed Services Subcommittee on Readiness, I've seen firsthand how much this program is needed to monitor and report Naval readiness and sustainment. I am pleased to support Congressman Wittman in introducing this legislation, and I will work tirelessly to ensure it becomes law," Garamendi added.
The Navy started classifying INSURV reports in 2008, but in more recent years the service produced unclassified versions. They often portray a negative picture of Navy fleet readiness.
The most recent report found Navy ship overall material conditions have had a negative trend in the past three years, driven by lower readiness scores in surface vessels and submarines.