The Army is seeking out capabilities to enable advanced mobility for its upgraded command posts that could be part of its fiscal year 2023 network modernization capability drop (CAPSET 23) experimentation. 
The service released a request for white papers on Monday identifying specific technology areas of interest, to include powering vehicle-mounted command post solutions and supporting enhanced communication between mobile command posts.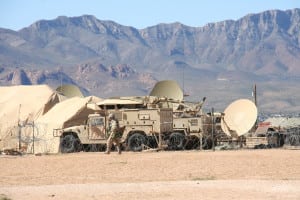 "In order for future command posts to be more survivable against near-peer adversaries, the Army is moving away from the traditional tent-based command post to a vehicle-based command post that allows the command post to be more dispersed. By doing this, the ability to communicate between vehicles becomes imperative for collaboration between the different unit mission function groups," Paul Mehney, a Program Executive Office for Command, Control and Communications-Tactical (PEO C3T) spokesman, said in a statement.
The new call for white papers follows a September industry engagement where the Army was able to gather perspective on capabilities that could support the Command Post Integrated Infrastructure development program, as the service looks to embrace a move to more command post (CP) mobility.
"Command posts do not have sufficient power generation and management ability to rapidly transition between stationary and on-the-move configurations and back," Mehney said. "Command Post Integrated Infrastructure (CPI2) program development has shown capability needs for both command post vehicle to command post vehicle communications and for power generation and power management as the Army adds additional mission command and computing systems onto the CP."
The request for white papers covers three specific topics, to include command post integrated power solutions.
"Modern command posts must power a variety of new computing systems, servers, radios and audio/visual components," the Army wrote in the notice. "To mitigate this, the Army is interested in exploring the use of vehicle mounted advanced lightweight auxiliary power units/generators, high-density energy storage, intelligent power distribution, optimized controls and prognostics/diagnostics."
The new notice also calls for capabilities that will be integrated onto vehicles' platforms to bolster communications between mobile command posts.
"To support the Command Post Integrated Infrastructure (CPI2) program, the Army is seeking a wireless communications system that can provide at-the-halt, and ideally on-the-move, vehicle-to-vehicle communications operating in multiple frequency bands while also limiting Radio Frequency (RF) signature," the Army wrote. The solution aims for an integrated radio/antenna with low size weight and power."
The Army is also seeking information to support a C5ISR/EW Modular Open Suite of Standards (CMOSS) that would enable a "network-in-a-box chassis for an expeditionary unit."
"This effort specifically seeks digital radioheads (RH) that are capable (or have a path to capability) of implementation with CMOSS," the Army wrote. "The Digital RH performs signal conditioning functions such as power amplification, filtering, RF tuning, and transmit/receive switching."