Major defense firms, including Northrop Grumman [NOC], Raytheon [RTN], BAE Systems and Leidos [LDOS], are pausing political contributions to lawmakers in the wake of the Jan. 6 attack on the U.S. Capitol.
The move will suspend donations, for the time being, for all members of Congress, not just the 147 lawmakers who voted against certifying the results of Joe Biden's presidential victory.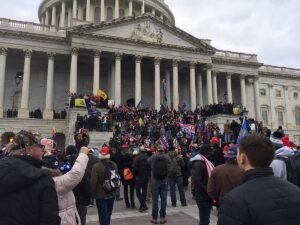 "In response to the deeply disturbing violence at the U.S. Capitol on January 6th, our US political action committee has suspended all donations while we assess the path forward," Tammy Thorp, a BAE Systems spokeswoman, told Defense Daily. 
On Monday, Marriott International [MAR], Blue Cross Blue Shield, and American Express [AXP] announced their Political Action Committees (PAC) would no longer donate to the 147 GOP congressional members—8 senators and 139 representatives—who did not certify the results.
That group includes Rep. Mike Rogers (R-Ala.), the new House Armed Services Committee ranking member and Rep. Tom Cole (R-Okla.), the House Appropriations Committee's top Republican in the last Congress.
Rogers, alone, received $25,000 from Leidos' PAC, $18,000 from Raytheon's PAC and $17,500 from Northrop Grumman's PAC in the latest election cycle, according to the Center for Responsive Politics' OpenSecrets.org.
"In light of these events, Leidos' Political Action Committee (PAC) has decided to temporarily pause all political donations. It's time to unite as one nation, promoting decency, understanding and a commitment to the common good. These are core American values and ones that Leidos will continue to honor each and every day," Leidos CEO Roger Krone said in a statement. 
Overall, Northrop Grumman and Raytheon were among the top 20 PAC donors to members who voted against certifying election results, contributing $687,500 and $570,500, respectively, in the 2020 election cycle. 
General Dynamics [GD] said it had no announcements at this time regarding its political donations, while L3Harris [LHX] and Lockheed Martin [LMT] said they had no comment on the matter. 
SAIC [SAIC] spokeswoman Lauren Presti told Defense Daily they are currently in their annual review and approval process for PAC activity "and will carefully weigh the events of Jan. 6 as part of that review."
Huntington Ingalls Industries [HII] spokeswoman Beci Benton said the company is reviewing its PAC's operating budget and donation policy for the upcoming cycle, adding "we encourage our employees to participate individually in the political process, as well as participate in the HII employee political action committee, if eligible."
Several companies, including Textron [TXT], Boeing [BA] and Oshkosh Defense [OSK], did not respond to Defense Daily's request for comment as of Tuesday evening.
John Feehery, a partner with EFB Advocacy and a former top GOP House aide, told Defense Daily he believes the defense companies that have declined to restrict donations just to the 147 GOP congressional members who voted not to certify the 2020 presidential election results "are trying not to make any rash decisions."
"I also think that they don't necessarily want to burn any bridges long term. I think that the other thing that they're probably doing is trying to figure out how do we adequately communicate to our employees about why we have a PAC and explain to their executives why they have a PAC, what the purpose of the PAC is," Feehery said. 
Additional House Armed Services Committee members that were among the group of 147 lawmakers includes Rep. Rob Wittman (R-Va.), ranking member on the Seapower Subcommittee, Rep. Vicky Hartzler (R-Mo.), the Tactical Air and Land Forces Subcommittee ranking member, and Rep. Mo Brooks (R-Ala.), who addressed the crowd on Jan. 6 before the riot on the Capitol.
Five of the six GOP members of the House Appropriations Defense Subcommittee in the last Congress also voted to reject the Electoral College Results, to include the panel's ranking member Ken Calvert (R-Calif.), Hal Rogers (R-Ky.), Tom Cole (R-Okla.), John Carter (R-Texas), Robert Aderholt (R-Ala.), Mario Diaz-Balart (R-Fla.).
Also among the 147 GOP non-certifying members are one member of the Senate Armed Services Committee, Sen. Josh Hawley (R-Mo.), who is said to be eyeing a 2024 presidential run, and two members of the Senate Appropriations Committee—Sens. John Kennedy (R-La.) and Cindy Hyde Smith (R-Miss.).