While the Navy is looking into using a dual crew model for the new Constellation-class frigates, the first few vessels are expected to operate with single crews to start.
The Littoral Combat Ships (LCS) currently operate under a Blue/Gold crew concept and the Navy said it has lessons learned from that style and plans to implement them later on the frigate.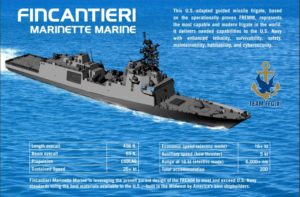 "I'm going to move very deliberately and slowly in the crewing concepts. So with FFG(X) and if we're taking a look at [initial operating capability] in 2026, I'm heading down a line of a single crew for that ship, at least for the first few ships," Chief of Naval Operations Adm. Mike Gilday said during the virtual Surface Navy Association symposium on Monday.
"We've got to get that right. I can't afford…this is the Navy's SpaceX in this decade – we got to get FFG(X) right, we got to get DDG(X) right," Gilday said, referencing the future Large Surface Combatant planned to succeed the current Arleigh Burke-class destroyers.
In a media call ahead of the symposium on Jan. 8, Commander of Naval Surface Forces Vice Adm. Roy Kitchener underscored the Navy will leverage the way they train and man for the LCS with the frigate as well.
"We did look at what we've done on LCS and the Blue/Gold concept and how we're going to fit them out. And we think that is probably the way to get the most presence as we usually do," Kitchener said.
Rear Adm. Paul Schlise, Director, Surface Warfare Division (OPNAV N96), added that the crew of the frigate will be larger than on the LCS, "so there's kind of inherent more capability in that crew. It's not a minimally manned platform as LCS was."
The higher frigate manning means Constellation-class crews will be able to support more multi-mission efforts and will have "some more ability for the crew to do its own maintenance. Planned maintenance will be done much more so by the ship's crew on a frigate…than on an LCS," Schlise continued.
Schlise also said he thinks there is some ability to potentially deploy frigates for longer with a rotational crew model.
"We are still learning about how to do that and what that right rotation is. So it's a little bit pre-decisional still with Constellation. I think at least the first few hulls, and I'm not going to give you a number because we haven't decided yet, but we will probably single crew the first few hulls because there's a lot of test and test evaluation and go through with the new platform like that, and bringing out this new system going through all the testing required to bring a new platform fully into this fleet to get into IOC and then FOC."
If the frigate moves to a dual crew model later on, Schlise said that would be in consideration of giving fleet commanders the best ship availability as possible with the platform.
Fincantieri Marinette Marine won the contract to build the initial 10 frigates based on the Italian FREMM design last April (Defense Daily, April 30, 2020).
The Constellation-class frigate is planned for initial operational capability in 2026.
Separately, Kitchener said the Navy is finishing a follow-up to the 2016 LCS review after he took command this past summer. He expects the Navy to release that study "over the next probably month or so."
"Not quite ready to talk about that, but I do think what we came up with was some really good themes on, or some good ideas on how to get the right mission sets –  I think we have now," he said.
Kitchener emphasized it is an iterative process from the 2016 review, asking if they have the missions right, getting the presence they want out of it, the right sustainability and maintenance models.
Schlise added that work on the anti-submarine warfare (ASW) mission package for LCSs "directly ties into what we will eventually field on that FFG-62 Constellation-class frigate."
"We are pretty excited about the progress that we made with the variable depth sonar system that is a piece of that ASW mission package. And that is something that the Constellation-class frigate will have, so that sort of joined at the hip there in terms of our small surface combatant force between LCS and frigate."
Marine Maj. Gen. Tracy King, director of Expeditionary Warfare (OPNAV N95), added the mine countermeasure mission package for the LCS will "probably start fielding…in about two or three years. And then we'll begin to sundown the Avenger-class MCM ships."