A Lockheed Martin [LMT] on Wednesday official further explained what prompted its new contract to BAE Systems for next-generation Terminal High Altitude Area Defense (THAAD) infrared seekers.
Lockheed Martin Vice President for Upper Tier Integrated Air and Missile Defense Richard McDaniel told Defense Daily that "parts obsolescence has driven the need for an update to the technical design package to support future production."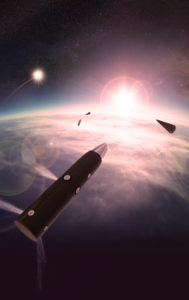 McDaniel said using current technology in the seekers renders a new generation design and "where possible, seeker performance will be incremented to take most advantage of the design update and add capability against the advancing threat."
On Tuesday, BAE said it won a Lockheed Martin contract for an unspecified amount and value to build the infrared seekers to improve its ability to neutralize threats and improve manufacturability (Defense Daily, March 17).
According to McDaniel, the new capability increments will add performance against the advancing missile threat and that "using current part technology will enable today's manufacturing techniques and tools."
The contract updates the seeker technical data package to "design out obsolete parts, execute subsequent design qualification, and transition the updated design to production rate," he continued.
This decision was spurred by recent foreign military sales procurements paired with a diminishing or obsolete parts supply.
"The implementation of the updated seeker design into the interceptor is driven by completion of the development program, while current production rates determine when current seeker parts supply will diminish," he added.
The THAAD missile defense system intercepts targets using kinetic force during the target's terminal or final phase of flight. The seeker provides infrared imagery to guide the interceptors to the target either inside or outside the atmosphere.