Lockheed Martin [LMT] awarded BAE Systems
a contract to design and build next-generation infrared seekers for the Terminal High Altitude Area Defense (THAAD) system, BAE said Tuesday.
BAE did not disclose numbers of contract value. However, in a statement, the company said, "the sensor design work will improve the missile defense system's ability to neutralize more threats and improve its manufacturability."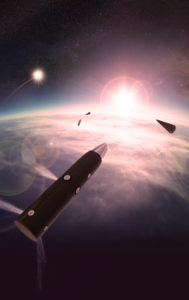 "The THAAD seeker is a key product in our precision munitions portfolio that's recognized for its proven intercept capabilities. It demonstrates our ability to deliver advanced targeting and guidance systems for critical precision munitions," said Barry Yeadon, THAAD program director at BAE Systems, said in a statement.
"This award is a testament to our ongoing success with the program, and enables us to advance our proven design and take the program into the future in support of the Missile Defense Agency's mission," he added.
The THAAD missile defense system intercepts targets using kinetic force only during the target's terminal or final phase of flight. The seeker provides infrared imagery to guide the interceptors to the target either inside or outside the atmosphere.
BAE has previously delivered over 500 THAAD seekers so far.
The company's seekers are assembled, integrated, and tested at BAE facilities in Nashua, N.H., and Endicott, N.Y. The seekers are then integrated into the larger THAAD interceptors at Lockheed Martin's assembly facility in Troy, Ala., where 63,000 square feet of building space is dedicated to manufacturing THAAD missiles (Defense Daily, Aug. 12, 2019).
BAE underscored some of the next-generation seeker technology work will occur in Huntsville, Ala., where it is "actively hiring and building a state-of-the-art facility."