The future USS Delbert D. Black (DDG-119) Arleigh Burke-class destroyer finished acceptance trials on March 12, the Navy said Monday.
During the trials the ship's crew underwent a set of demonstrations for the Navy's Board in Inspection and Survey (NSURV) while underway for two days at sea in the Gulf of Mexico. The trials are done to validate the quality of construction and compliance with specifications and requirements for INSURV before delivery.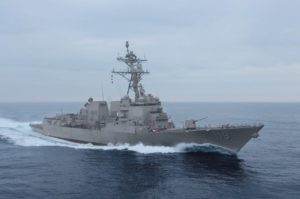 "The ship performed exceptionally well and demonstrated that the ship is materially ready to execute her mission. The success of these trials validates this highly capable ship will be a force multiplier when she joins the fleet," Capt. Seth Miller, DDG 51 class program manager in Program Executive Office Ships, said in a statement.
DDG-119 was built by Huntington Ingalls Industries' [HII] Ingalls Shipbuilding Division at its shipyard in Pascagoula, Miss.
The Navy noted the Black is built with the Aegis Baseline 9 combat system, which includes integrated air and missile defense capabilities with greater computing power and radar upgrades to better detect and react against air and ballistic missile defense threats.
"DDG-119's exceptional performance during these trials is a direct reflection of the teamwork between Ingalls Shipbuilding and the Navy. I am proud of this ship and I am extremely proud of the Ingalls Shipbuilding and Navy team that built her," the Supervisor of Shipbuilding, Conversion and Repair Gulf Coast, Capt. Nathan Schneider, added.
The Navy expects DDG-199 to be delivered later in 2020.
Separately, HII's Pascagoula shipyard is currently working on the future destroyers Frank E. Peterson Jr. (DDG-121), Lenah H. Sutcliffe Higbee (DDG-123), and the Jack H. Lucas (DDG-125), the first Flight III destroyer.
This is the third and last set of sea trials after HII previously finished the Black's builder's trials on Feb. 22 after operating in the Gulf of Mexico, which itself followed Alpha trials in December 2019 (Defense Daily, Feb. 24).