General Dynamics' Bath Iron Works (BIW) and the U.S. Navy completed builder's trials on the future Arleigh Burke
-class destroyer USS Daniel Inouye on Dec. 19.
The company previously announced the start of the trials on Dec. 16 (Defense Daily, Dec. 18).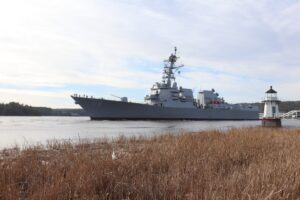 The trials entailed a series of in-port and at-sea demonstrations, with four days at sea off the coast of Bath, Maine, allowing both the shipbuilder and the Navy to assess ship systems and readiness for delivery.
"The successful completion of these trials is a critical step to ensuring full combat-readiness of the ship. The Navy and Industry team is dedicated to adding DDG 118's critical warfighting capabilities to the fleet and strengthening the Navy's readiness," Capt. Seth Miller, DDG-51 class program manager at Program Executive Office (PEO) Ships, said in a statement.
DDG-118 is a Flight IIA destroyer and is equipped with the Aegis Baseline 9 Combat System that includes integrated air and missile defense capability as well as "enhanced Ballistic Missile Defense capabilities," the Navy said.
The service said the ship will next return to sea in early 2021 to conduct acceptance trials with the Navy's Board of Inspection and Survey. Those trials will entail having all systems be inspected and evaluated "to ensure quality and operational readiness prior to the Navy accepting delivery," the Navy said.
Separately, BIW is also in production on the future destroyers Carl M. Levin (DDG-120), John Basilone (DDG-122), Harvey C. Barnum (DDG-124), Patrick Gallagher (DDG-127), and the first Flight III ship, Louis H. Wilson, Jr. (DDG 126).