The Pentagon on Tuesday released its latest proposal request for 5G pilot programs, seeking prototypes for augmented and virtual reality projects at Joint Base Lewis-McChord in Washington.
This is the department's third 5G-related Request for Prototype Proposals (RPP), and follows last week's call for 'smart warehouse' solutions to be tested at Marine Corps Logistics Base in Albany, Georgia, and Naval Base San Diego.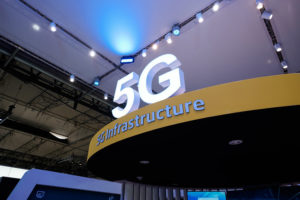 "This is the third of four 5G-related RPPs, which will help ensure that the U.S. continues to have the technical edge on the battlefield. We strongly encourage our members to collaborate and respond to these important RPPs to support innovation and make sure that the United States remains a global technology leader on 5G," Joseph Dyer, National Spectrum Consortium's chief strategy officer, said in a statement.
Pentagon officials announced last October plans to start large-scale experimentation with 5G technology at four installations across the country to enhance current military capabilities and more rapidly deploy 5G to the force (Defense Daily, Oct. 23).
The department has also previously noted it has agreed to a five-year deal with the National Spectrum Consortium to manage 5G pilot program process by distributing documents and contract notices.
Tuesday's RPP specifically covers requirements for augmented reality and virtual reality prototype 5G testbeds, network enhancements and applications.
The next RPP is set to focus on dynamic spectrum sharing, according to the National Spectrum Consortium.
Prototype proposals for the augmented and virtual reality programs are due by April 30, and will only be accepted from members of the National Spectrum Consortium.