Elbit Systems of America is looking to propose a version of its Iron Vision technology for the Army's future combat vehicle fleet that would provide 360-degree situational awareness capability to both crew members and dismounted soldiers, company officials told Defense Daily
on Tuesday. 
The company is aiming to demonstrate the capability with the Army's future augmented reality headset, the Integrated Visual Augmentation System, to showcase Iron Vision as a potential major subsystem option for the Optionally Manned Fighting Vehicle.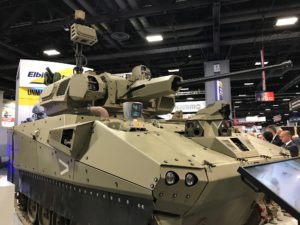 "In terms of capabilities for the system, we are ready for primetime. The challenge we're facing right now is that this capability would have to be tailored for a specific vehicle. For whatever ends up as the Next-Generation Combat Vehicle, there will be a number of changes in order to integrate this system fully with the platform," Sasha Bairamov, Elbit America's senior director of business development, told Defense Daily. "So the capability exists and it's mature. It's just about finding that platform to adopt that capability."
Bairamov noted that the Iron Vision capability currently being procured in Israel offers connectivity for the vehicle crew, while this offering would add in situational awareness feeds direct to dismounted soldiers.
"It all comes down to saving lines. And to me, the game changer is that it's all about HMI, Human-Machine Interface. This capability is, by far, more superior than a flat-screen approach. When you have a helmet-mounted display system and that near-eye display, you actually get a situational awareness picture like you would get if you were looking at things with the naked eye. Having that ability to react faster will, at the end of the day, save lives," Bairamov said.
Elbit America had planned to showcase Iron Vision at the now-canceled AUSA Global Force Symposium in Huntsville, Alabama, on a vehicle technology demonstrator to continue conversations with the Army as a potential customer.
"What we had intended to show was video sources on the platform, of which there are many of them, upward of 50, we were going to demonstrate making those videos sources available to a dismounted display device," Sam Hinckley, Elbit America's technical manager for helmet mounted displays and sensor technologies, told Defense Daily. "Basically, it would be in the form of an application that is on the device and would allow the soldier to select any video from the platform for display on their headset."
The company previously brought its tech demonstrator to the AUSA conference in D.C. last October to showcase a technology suite aimed at reducing crew workload, with the latest version of the vehicle featuring upgraded versions of the SupervisIR wide-area persistent sensor and new target recognition algorithms, according to Hinckley (Defense Daily, Oct. 21).
Hinckley added the company has held discussions about demonstrating Iron Vision with IVAS, which is being developed by Microsoft [MSFT], while there are no final plans in place as the Army is working on how to make the capability while it's still being developed. 
"We are looking to show this on IVAS or IVAS-like hardware. We've been in contact with both the IVAS program people as well as folks at Microsoft," Hinckley said, noting that a likely scenario would involve working with a version of Microsoft's HoloLens 2 headset.