A Navy official on Thursday said the service sees the MQ-25A Stingray unmanned carrier-based tanker possibly eventually adding strike missions and that up to 40 percent of the future air wing could be unmanned.
During a hearing of the House Armed Services Committee Seapower and Projection Forces Subcommittee on Thursday, ranking member Rep. Rob Wittman (R-Va.) said he thinks the Navy must start these kinds of unmanned systems with the end goal in mind.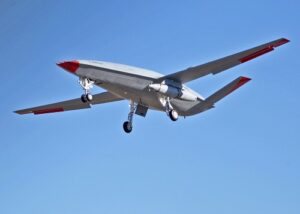 "The Navy needs to develop an unmanned, long range, carrier-based, penetrating strike capability. Yet, this nascent UCLASS program was usurped to field a far less capable MQ-25 tanking drone. I understand the need, I understand the timeframes, but we want to make sure we have the balance between time and developed capability to make sure we have the long-term in mind, not just the short-term," Wittman said during his opening statements.
Rep. Vicky Hartzler (R-Miss.) asked if the Navy plans to incorporate strike options into the MQ-25 mission set after it is fielded.
"I think the MQ-25 has great promise for us…our initial focus is to introduce this platform and get it introduced into the airwing where it can serve its role initially in tanking and limited [intelligence, surveillance and reconnaissance or ISR] from that perspective," Vice Adm. James Kilby, Deputy Chief of Naval Operations for Warfighting Requirements and Capabilities, said during the hearing.
Kilby said for now the Navy is focused on launching, landing, moving the aircraft on the deck, taking it to and from a carrier hangar bay, and how to position the assets.
He noted that currently some F/A-18 E/F fighters are acting as tankers. And the MQ-25 will initially focus on allowing them to move back to strike missions.
The Navy plans to use the MQ-25 to refuel fighters near the carrier initially, "but eventually at range."
However, he noted beyond moving to ISR missions, "there is some payload capacity in that vehicle that we think has great promise for" strike capability.
Kilby said that in talks with Rear Adm. Gregory Harris, director of Air Warfare Division, N98, in the Office of the Chief of Naval Operations as well as commander of Naval Air Force Vice Adm. Kenneth Whitesell, "we think we could get upwards of 40 percent of the aircraft in the airwing that are unmanned. And then transition beyond that."
Kilby argued they should follow a crawl-walk-run step advancement as capabilities like MQ-25 are developed.
"Let's figure out how to handle it in the airwing, let's move to ISR, maybe electronic attack, strike, and then other things as complexity grows across that mission set. But I think the MQ-25 will most certainly provide promise to us because it will be able to perhaps exceed the endurance of a manned aircraft," Kilby added.
Relatedly, Kilby also noted the service is working on the current enabling technology of the control center on a carrier, but he envisions moving beyond that for a purer manned-unmanned teaming.
"Ultimately, in the future, let's say there's a refueling area for strike or some other mission area – it would be great if a manned pilot saw weather or we saw weather and we could divert, move that and not have to go to the carrier to do that control. So, I think an aspiration for us is that control, manned and unmanned teaming, in the future between these vehicles."
However, he acknowledged the Navy first has to start with getting the carrier control center part right now.
Kilby said for now the Navy is expecting the MQ-25 aircraft to be delivered as tankers in FY '24-'26 timeframe "and then we need to start rapidly looking at what's next and how do we increase the range and capacity of that airwing to do what the nation needs it to do."
Boeing [BA] is developing and building the MQ-25A tanker under a 2018 $805 million engineering and manufacturing development (EMD) contract covering the first four models (Defense Daily, Aug. 30, 2018).
The service plans to reach initial operational capability in 2024 and the company is conducting flight tests with its test asset, T-1, until the initial EMD aircraft are ready. In December, the Navy said the T-1 started flying with the Cobham aerial refueling store currently used by F/A-18s for air-to-air refueling (Defense Daily, Dec. 11, 2020).