Boeing [BA] and the U.S. Navy flew the MQ-25 test asset (T-1) with an aerial refueling store (ARS) for the first time this week, the company said Dec. 9.
The flight lasted 2.5 hours and used the Cobham ARS, the same component currently used by F/A-18s for air-to-air refueling. The company said the flight test was designed to test the aircraft's aerodynamics with the ARS mounted under the wing. The aircraft was piloted by Boeing test pilots operating from a ground control station at MidAmerica St. Louis Airport in Mascoutah, Ill.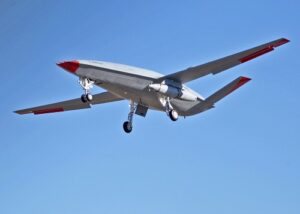 Boeing is developing and building the MQ-25A Stingray under a 2018 $805 million engineering and manufacturing development
contract covering the first four aircraft (Defense Daily, Aug. 30, 2018).
In April, Boeing won an $85 million modification to procure another three MQ-25s as system demonstration test articles set for delivery by August 2024 (Defense Daily, April 3).
The Navy plans for the MQ-25A to have initial operational capability in 2024 to serve as an aircraft carrier aerial refueling tanker, replacing the currently used F/A-18s that could then be moved back to combat operations. Boeing is conducting flight tests with T-1 to prepare for the engineering development model.
"Having a test asset flying with an ARS gets us one big step closer in our evaluation of how MQ-25 will fulfill its primary mission in the fleet – aerial refueling," Capt. Chad Reed, the U.S. Navy's Unmanned Carrier Aviation program manager, said in a statement.
"T1 will continue to yield valuable early insights as we begin flying with F/A-18s and conduct deck handling testing aboard a carrier," he added.
Boeing said additional flights will test aircraft aerodynamics with the ARS at various points of the "flight envelope," eventually leading to extension and retraction of the hose and drogue used to refuel aircraft.
"To see T1 fly with the hardware and software that makes MQ-25 an aerial refueler this early in the program is a visible reminder of the capability we're bringing to the carrier deck," Dave Bujold, Boeing's MQ-25 program director, said in a statement.
Boeing said T-1 has accumulated about 30 hours of flight time before the modification to install the ARS.
Separately, this week the Navy announced a new warrant officer specialty designator who will operate the MQ-25s. Secretary of the Navy Kenneth Braithwaite approved the new Aerial Vehicle Operator warrant officer specialty on Dec. 9.
"Over the next 6-10 years, the Navy will recruit, train and send to the fleet, a community of roughly 450 warrants in grades W-1 through W-5," the Navy said.
Selected personnel will complete Officer Candidate School in Newport, R.I., be designated as Warrant officer One, and complete basic flight training and advanced training on the MQ-25.
The service explained it will use warrant officers as the main operators of unmanned aerial vehicles because the expected career path they will have as they move up the ranks will be as technical specialists who complete repetitive tours.
"Unlike traditional Navy Chief Warrant Officer's, the majority of these officers will be accessed much younger and trained along the lines of current Naval Aviators and Naval Flight Officers in the unrestricted designators," Capt. Christopher Wood, aviation officer community manager at the Bureau of Naval Personnel in Millington, Tenn., said in a statement.
Wood added while naval aviators and naval flight officers require assignments that progress in tactical and leadership scope to be competitive for promotion, "warrant officer AVO's will be technical specialists and spend their careers as operators."
Navy Recruiting Command will start accepting applications for initial AVO accessions in fiscal year 2022.