The head of Army Materiel Command on Thursday detailed his priorities for logistics and sustainment modernization, including specifics on the service's 15-year, $16 billion plan to overhaul its organic industrial base facilities with advanced production and manufacturing capabilities.
Gen. Ed Daly said his top sustainment initiatives include reducing logistics demand with greater electrification and alternate fields, increase use of predictive maintenance tools, proliferating advanced manufacturing capabilities down to the corps and division levels, fielding fully autonomous air and ground resupply systems and developing a new holistic tactical truck, wheeled vehicle and trailer strategy.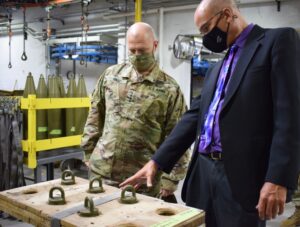 "Operationally, we must ensure forward presence and agile basing, set the theaters from a sustainment and commodities perspective, employ a 21st century Army prepositioned stock strategy, collaborate and ensure interoperability within the joint force as well as build partner capacity with our allies and partners through Foreign Military Sales and improve ship-to-shore logistics capabilities," Daly said during a keynote address at the virtual AUSA Global Force Next conference.
On the $16 billion organic industrial base modernization plan, Daly said the initiative will focus on integrating more robotic, artificial intelligence, machine learning and high-speed data processing capabilities across the Army's 26 arsenals, depots and ammunition plants.
Daly said the plan also includes building a $400 million nitrocellulose chemical production facility at the Radford Army Ammunition Plant in Virginia, $469 million for production line modernization at Lake City Army Ammunition Plant in Missouri and $722 million for safety, environmental and energy efficiencies across the organic industrial base.
"We're also investing in our advanced manufacturing facility at Rock Island [Arsenal in Illinois] which is our center of excellence and we now have the ability to 3D print hundreds, and approaching thousands, of parts for our equipment in the field," Daly said.
Senior Army officials previously detailed the $16 billion plan to lawmakers, calling it a pressing need to transform its facilities with "more modular manufacturing practices and pathways to reduce reliance on foreign suppliers for critical materials" (Defense Daily, Oct. 13).