DARPA and the Air Force have completed a successful first flight test of Raytheon Technologies [RTX] and Northrop Grumman's [NOC] Hypersonic Air-Breathing Weapon Concept (HAWC), demonstrating capability to reach above Mach 5 speed, or five times faster than the speed of sound. 
The free flight test of Raytheon's missile and Northrop Grumman's scramjet engine took place last week, and was described as a critical step toward validating HAWC's ability to reach hypersonic speeds as the Pentagon assesses transitioning the effort into an Air Force program of record.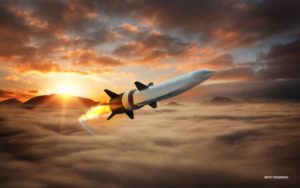 "This is a history-making moment, and this success paves the way for an affordable, long-range hypersonic system in the near term to strengthen national security," Colin Whelan, Raytheon Missiles & Defense's vice president of advanced technology, said in a statement. "This test proves we can deliver the first operational hypersonic scramjet, providing a significant increase in warfighting capabilities."
Both Raytheon and Lockheed Martin [LMT] have designed scramjet-engine powered hypersonic missile concepts for HAWC, with DARPA and the Air Force previously conducting captive carry tests of the two concepts in 2020 (Defense Daily, Sept. 1 2020). 
Raytheon and Northrop Grumman signed a teaming agreement in 2019 to work on the $200 million HAWC program, with an aim to demonstrate critical technologies needed to enable an effective and affordable air-launched hypersonic cruise missile (Defense Daily, June 18 2019). 
The free flight test involved Raytheon's missile being released from an aircraft right as the Northrop Grumman scramjet, or supersonic combustion ramjet, engine "kicked on" and "began igniting that fast-moving airflow mixture, propelling the cruiser at a speed greater than Mach 5," according to DARPA.
DARPA said the demonstration was used to assess vehicle integration and release sequence, safe separation from the launch aircraft, booster ignition and boost, booster separation and engine ignition, and cruise capability, and that all primary objectives were met. 
"The HAWC free flight test was a successful demonstration of the capabilities that will make hypersonic cruise missiles a highly effective tool for our warfighters," Andrew "Tippy" Knoedler, HAWC program manager in DARPA's Tactical Technology Office, said in a statement. "This brings us one step closer to transitioning HAWC to a program of record that offers next generation capability to the U.S. military."