The Navy's top acquisition official said he is pushing to accelerate contract awards to help industry respond to and prepare for the COVID-19 pandemic.
Assistant Secretary of the Navy for Research, Development and Acquisition James Geurts said he is partially focusing on the economic wellness of the defense industrial base amid the pandemic, which means not only maintaining the pace of contract awards but accelerating it too.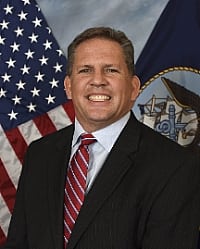 "What I am not slowing down is on the demand side in terms of – in fact we're accelerating…we are not slowing down what we had planned to award and when we had planned to award it," Geurts told reporters Wednesday during a press phone roundtable.
"We're actually accelerating that whenever we can so that we can get that demand signal in and as the situation allows and folks get back to work and get back to work at full speed there's meaningful work there for them and we don't have a lag effect of the current disruption, leading to additional disruption when everybody can get back to work at full speed," he continued.
Geurts emphasized one of his major concerns is working to maintain the industrial base's economic health and noted the Navy and industry are "working together to ensure that we can continue to infuse the defense industrial base, remove barriers, free up funding that we already had in the system, and then where possible accelerate awards and ensure we've got all the work backlogged and ready to go."
Geurts named examples of continuing to push out contracts include the March 20 $392 million award to Raytheon [RTN] for AIM-9X Sidewinder air-to-air missiles, March 9 $800 million award to Boeing [BA] for Lot 11 P-8A Poseidon production, and the Wednesday award of two additional towing, salvage and rescue ships (T-ATS) to Gulf Island Shipyards LLC (Defense Daily, March 24 and 9).
"So, our entire team is focused on close partnership with the defense industrial base," he said.
Geurts noted amid this rampup in awards to help increase cash flow and maintain steady contractor work his team has largely been working mostly dispersed or remotely.
"To the combined credit of the team, it's been remarkable as our team has been 90-95 percent dispersed and teleworking, how effective they have been at implementing that guidance and accelerating activity. And so that's a testament to both the government and defense industrial folks working our way through that."