The Navy's top acquisition official on Thursday said as of last week the Navy pushed out contracts 32 percent faster than last year as it works to mitigate effects from the COVID-19 pandemic.
"When I looked at the numbers…as of last Friday we had put on contract $88.52 billion this fiscal year. That is in comparison to the same time last year where we had put $66.3 billion on, so about a 32% acceleration," Assistant Secretary of the Navy for Research, Development and Acquisition James Geurts told reporters during a phone press roundtable April 16.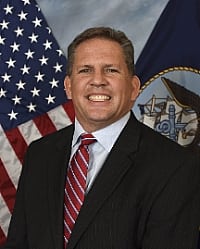 Geurts noted this acceleration happened despite five percent fewer contract actions in FY 2020 compared to 2019.
"If you compare that to two years ago, we were at $43.24 billion at this time two years ago with about 14 percent more contract actions. And so we are moving work to the left," he continued.
This contract acceleration work is continuing to help ensure the economic wellness of the industrial base.
He reported other efforts to get more immediate payments to the industrial base is largely complete.
"Accelerating payments, progress payments, I mark that own as largely complete," Geurts said.
He said policies are in place and contracts have been mass modified "and we worked some systems issues to allow us to do that across the board." The Navy has also done a reevaluation and adjustments to withhold payments and outstanding funds, which he marks largely complete.
Geurts explained "we are working our way through any of the outstanding claims that we have previous to the initiation of this crisis. And what that has done is freed up cash that was owed but just had not been paid out yet from the government. So that gives an immediate quick buffer."
Geurts also named more specific contracts that were pushed up to provide cashflow to the contractors and larger industrial base.
The Navy advanced the second LPD Flight II San Antonio-class amphibious transport dock, LPD-31, eight months from December 2020 to April (Defense Daily, April 3); advanced procurement for two DDG-51 Arleigh Burke-class destroyers for both General Dynamics Bath Iron Works [GD] and Huntington Ingalls Industries [HII] was pushed up; had earlier than planned awards for four Landing Craft Utility (LCU) transportation boats (Defense Daily, April 3); pushed two Navajo-class towing, salvage and rescue ships (T-ATS) (Defense Daily, March 27); Lot 9 Advanced Anti-Radiation Guided Missiles (AARGMs) were pushed from June to March (Defense Daily, March 13); Advanced Precision Kill Weapon System (APKWS) missiles were pushed from May to March; a future USS Enterprise (CVN-80) digital shipbuilding contract was awarded a month early on April 9; the $175 million refueling and complex overhaul (RCOH) planning contract for the USS John C. Stennis (CVN-74) was pushed from July to April; a $326 million P-8A Poseidon upgrade contract was awarded 120 days early on March 20; and a Rolls-Royce engine depot work contract was pushed up two months.
Geurts underscored the way they pushed LPD-31 forward eight months from December 2020.
"One of the ways we did that was use a technique that we used on the F-18 multi-year [contract],which was instead of going through a traditional RFP, wait for a long time to get a proposal, evaluate a proposal – we kind of know pretty well what an LPD costs and so we used a price offer process where using all the data that we collectively had, we made an offer on what we thought a fair and reasonable yet aggressive price was on LPD-31."
Geurts said he is "really proud of the combined government-contractor team to move that to the left."
He noted the Office of Naval Research (ONR) has already obligated about $1.5 billion compared to a plan to have $1.029 billion by this time of the year.
"That's very important, we're reaching out to every one of our over 2,000 performers in the science and technology area. Actually reaching out person to person so that we can understand where each of them are, what's blocking their performance–if there is anything–where do they see challenges."
Geurts said the Navy is doing a number of no-cost period of performance extensions, which is particularly useful for academic performers who have had to change their plans with school shutting down due to the pandemic.
"So we're working at the individual level to make sure we keep those folks lined up, that they can perform the work we need them to perform and then they understand what valued performers they are to our long term readiness."
Overall, Geurts reiterated his focus on making sure work is available so as each contract operation goes through COVID-19 caused stages of delay and disruption "I want to make sure the work is available so they can work on it as their workforce gets back to full speed."
If a contractor is currently working at full speed, then they just know they have more work lined up. While if they have a pandemic delay, they know the work is coming "and they can hire back the employees that we need with the skills they've built over the last several years so they're ready to roll."