Army leadership told lawmakers the ongoing coronavirus pandemic will likely impact several modernization programs, including potentially delaying fielding of its new augmented reality headset by one year, and may push the service to cancel or postpone 74 high-profile tests. 
Secretary Ryan McCarthy and Gen. James McConville, the Army chief of staff, provided the update to the Senate Armed Services Committee in responses posted Thursday as part of the committee's first "paper hearing."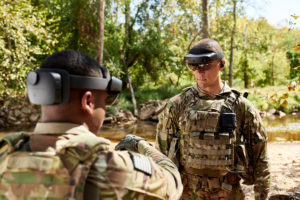 "It is too early to determine the full extent of the impact COVID-19 will have on readiness and modernization, though we expect COVID-19 will impact several, if not many, programs," McCarthy wrote. "We are working with our industrial base partners to determine their ability to perform within the current COVID-19 environment, and we are assessing effects on the Army's ability to test, field, and train on systems."
McConville said the Army's current assessment is that nine high-profile test events will need to be canceled under current conditions, with another 65 likely to be postponed. 
However, 42 tests are expected to continue as scheduled, according to McConville. 
"In all cases, the decision to continue or delay an event is made by commanders and senior leaders at the four-star or Assistant Secretary level after considering the risk as part of a cost-benefit analysis," McConville said.
Fielding for the Integrated Visual Augmentation System, being produced by Microsoft [MSFT], could also be pushed from from FY '21 to FY '22 due to the pandemic.
McConville said delays would likely be due to temporary closure of Microsoft's engineering and production facilities due to local responses to COVID-19. 
"We cannot assess the full impact until we know when the facilities will reopen," McConville said.
The Army has previously said it was planning a third soldier touchpoint for IVAS this July to inform a low-rate production decision, before holding a final evaluation in spring 2021 ahead of full-rate production decision (Defense Daily, Dec. 4). 
Gen. Mike Murray, head of the modernization-focused Futures Command, and Bruce Jette, the service's top acquisition official, told reporters earlier this month they did not expect the pandemic to have long-term delays on major weapon system development programs, while noting the Army is working on mitigation strategies to keep imminent tests and evaluations on schedule (Defense Daily, April 3).