The Army on Friday released its Unified Network plan which aims to synchronize tactical and enterprise networking modernization efforts to bolster capabilities, with a goal to transform the network from a "perceived invisible asset to a weapons system" by 2028.
The new plan details a three-phased effort to set conditions for a unified network positioned to support future Multi-Domain operations, to include establishing new security and information architectures and pursuing technologies that will allow the Army to share information rapidly in highly contested and congested operational environments.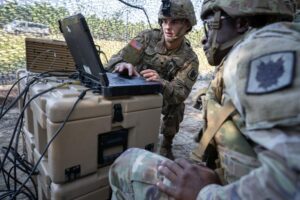 "Our potential adversaries' threats continue to increase in number, degree of complexity and level of physical and technical damage they can inflict," Lt. Gen. John Morrison, deputy chief of staff for the Army G-6, said in a statement. "The Unified Network gives the Army the ability to operate in a highly contested and congested operational environment with speed and at a global range that enables the decision dominance commanders need to maintain overmatch."
The Unified Network plan begins with five lines of effort to set the course for aligning modernization initiatives between the tactical network out on the battlefield and enterprise information systems, specifically calling for establishing a unified network, ensuring the force is postured to make best use of the network for multi-domain operations, focusing on security and survivability, improving processes through reform efforts and bolstering sustainment.
The first phase of the plan runs through 2024 and focuses on establishing the unified network, to begin with synchronizing tactical and enterprise network modernization efforts and concluding with  "the establishment of a standardized, integrated security architecture" that "enables the rapid deployment and immediate conduct of operations anywhere in the world," the Army writes in the plan. 
The initial effort includes leveraging emerging technologies such as software-defined capabilities and 5G networking and continuing the accelerated migration into cloud computing infrastructure, while adding the Army must pursue the "swift divestment of legacy capabilities and processes."
From fiscal year 2025 to 2027, a second phase will focus on operationalizing the unified network, to include "the completion of a construct with supporting force structure that enables defense and operations of the Unified Network in a contested and congested environment."
That second phase will also cover completing the establishment of hybrid cloud capabilities to accelerate artificial intelligence and machine learning development. 
With the goal to have the unified network then fully postured and operational by 2028, the third phase aims to continue modernization efforts indefinitely to ensure full support for Multi-Domain operations.
The Army also listed specific capabilities areas to be pursued in 2028 and beyond, such as new network transport capabilities, robust computing, edge sensors, robotics and autonomous operations and further cyber security and resiliency capabilities.
"Decisive in this phase is the full implementation of a holistic approach to modernize the Unified Network over time, leveraging emerging technologies while divesting of legacy, less secure, capabilities," the Army writes in its plan.